The Classic Namibia Circuit With Private Guide
15 Days from £5908
per adult. All trip details below can be tailored just for you
Designated a classic Namibia tour and rightly so, this expertly guided itinerary shows off the breathtaking beauty and diversity of landscapes in Namibia, with its desert-adapted animals and flora, the towering dunes of the Namib Desert, bountiful marine life, extraordinary Damaraland and the exceptional wildlife of Etosha National Park and Okonjima. Your private driver-guide will enhance your experiences immeasurably while at the various locations, ending at the exemplary AfriCat project based at Okonjima. This makes for a fantastic all-round  tour of Namibia's major highlights which will reveal a great deal about this beguiling and scenic country.
Price from £5908
per adult. Based on sharing double / twin rooms
Day 1
Includes In-flight Meals.
Day 2
Met on arrival in Windhoek. There will be a short city tour if desired or alternatively transfer straight to the hotel.
Staying at Galton House. Includes Breakfast.
Day 3
Guided scenic drive over the Khomas Hochland to the Namib Desert. Visit the impressive Sesriem Canyon created two million years ago by the power of the Tsauchab River.
Staying at Sossus Dune Lodge. Includes All Meals.
Day 4
Morning excursion in the dunes, with Sossusvlei and Dead Vlei. These two natural clay pans offer outstanding photographic opportunities. The moon-like landscape includes sand dunes over 300 metres high and trees over 500 years old. Optional excursions: hot air ballooning, horse riding, guided walks and sundowner drive.
Staying at Sossus Dune Lodge. Includes All Meals.
Day 5
Drive via Gaub and Kuiseb canyons and welwitchias to Swakopmund. On arrival there will be time to explore this German colonial seaside town.
Staying at Cornerstone Guesthouse. Includes Breakfast.
Day 6
In the morning take the short drive to Walvis Bay. Take a catamaran cruise for dolphins, seals and other marine wildlife and then return to Swakopmund. In the afternoon there will be optional excursions such as: a scenic flight over the Namib Desert and coast (highly recommended), quad biking in the dunes, and visits to a museum.
Staying at Cornerstone Guesthouse. Includes Breakfast.
Day 7
Scenic drive to Damaraland past the Brandberg Mountain. Afternoon visit to the Twyfelfontein Rock Engravings (World Heritage Site). Later marvel at the Burnt Mountain and Organ Pipes.
Staying at Camp Kipwe. Includes All Meals.
Day 8
Morning spent in stunning Damaraland looking for desert-adapted elephant herds in the Aba-Huab River. Afternoon guided walk or relax at the lodge in beautiful surroundings.
Staying at Camp Kipwe. Includes All Meals.
Day 9
Today drive to Etosha National Park. Afternoon game viewing in the park by vehicle or enjoy animals coming to you at the camp's famous waterhole.
Staying at Okaukuejo Camp. Includes Breakfast.
Day 10
Day on safari heading east across Etosha National Park, game viewing along the way. The Etosha saltpan is a large pan formed by wind action and supports a great diversity of flora and fauna. The park is known for its large concentrations of game, particularly around waterholes, the attractive endemic race of black-faced impala and its important population of black and white rhino.
Staying at Mushara Outpost Lodge. Includes All Meals.
Day 11
Day of exciting game viewing in Etosha National Park. Some of the key species that could be seen include black rhino, elephant, lion, leopard, spotted hyena, as well as large herds of gemsbok, zebra, springbok, hartebeest and a wide selection of birds including 10 endemic species.
Staying at Mushara Outpost Lodge. Includes All Meals.
Day 12
Today drive to Okonjima via Lake Otjikoto. Afternoon with the AfriCat project for activities such as visits to the leopard and cheetah rehabilitation projects, and later tracking of leopard, cheetah, wild dog and hyena, or guided walking of local trails.
Staying at Okonjima Bush Camp. Includes All Meals.
Day 13
Morning and afternoon excursions with the AfriCat team. After nightfall perhaps visit the hide for sightings of elusive nocturnal animals such as honey badgers and Cape porcupines.
Staying at Okonjima Bush Camp. Includes All Meals.
Day 14
There will be time for a pre-breakfast excursion with the AfriCat team from Okonjima. After breakfast return to Windhoek, and take flight back to the UK.
Includes In-flight Meals.
Day 15
Includes In-flight Meals.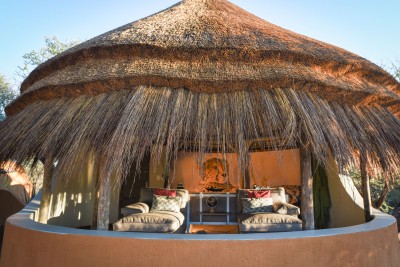 Okonjima Bush & Plains Camps
Overview
The delightful accommodation at Okonjima Bush Camp consists of luxury thatched chalets, spaced widely apart for privacy in the tranquil bush surroundings, plus a main "lapa" area in the form of a camelthorn pod where meals and drinks are taken and activities commence. Each exclusive en-suite chalet is completely private and the green canvas 'walls' can be rolled up to give you a 180-degree view so you can watch life in the bush going on around you whilst you lie in bed and relax in total comfort.
The accommodation at the larger Plains Camp consists of 14 Standard en suite terraced rooms and 10 new View Rooms that are set further apart: all rooms overlook the savannah. Two of the View Rooms and four of the Standard Rooms can combine to make a family unit. Each unit has a verandah, a wheelchair-friendly ramp, two double beds, desk, chair, mini bar, coffee/tea facilities, ceiling fans, twin basins, twin showers, safe and internal telephone. The main building, the Barn, contains the restaurant, pool, shop and lounge.
Okonjima is home to the AfriCat Foundation, a wildlife sanctuary founded in 1991 that is dedicated to creating conservation awareness, preserving habitat, promoting environmental educational research and supporting animal welfare. Their main focus is Africa's big cats, especially injured or captured leopards and cheetahs.
AfriCat runs the largest cheetah and leopard rescue and release programme in the world. In the last 17 years over 1000 of these predators have been rescued with over 85% being released back into the wild. Close encounters with leopard and cheetah are an unforgettable highlight here. Activities include leopard tracking by vehicle, a visit to the cheetah welfare project and a visit to the night hide where nocturnal animals such as porcupine, caracal, honey badger, eagle owl and even leopard may be seen.
Facilities
Bush Camp: 8 luxury thatched chalets; 1 luxury honeymoon suite (two double beds next to each other). Plains Camp: 14 Standard en suite rooms and 10 new View Rooms. Other facilities include restaurant, bar, boutique shop, swimming pool,

Local Wildlife
Rehabilitated and wild carnivores - in particular cheetah and leopard - can be tracked in the reserve. Spotted hyena, African wild dog, lions and commoner plains herbivores such as impala, springbok, zebra and wildebeest. There is a hide overlooking a floodlit area where cape porcupines and honey badgers are frequently seen and caracal and leopard are also possible.
Optional Activities
Visits to the big cat rehabilitation and welfare centre, visit nearby REST (rare and endangered species trust), night excursion, tracking of wild big cats and other wildlife and bird walks.
This tour has no set departure date and can be tailored to suit your travel requirements. Contact us for more details.
Are International Flights Included?
No. Please contact us for a quote if required.
Flight Info:
Fly from London to Windhoek
Best Visited:
January to January
Are you ATOL Registered?
Yes. This means we are legally able to book your international flights in conjunction with your ground arrangements so you can book with us with complete confidence. Read more about our ATOL license here.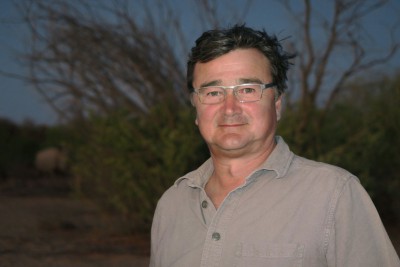 Alan Godwin
Area Specialist
Try the scenic flight over the Skelton Coast
If you have any questions regarding this Tour, please feel free to contact me on +44 (0)1803 866965
This was our second visit to Namibia in just over 12 months, with Reef and Rainforest and our seventh consecutive wildlife trip with them. I think that speaks for itself. This year we were particularly keen to try and observe some desert adapted Lions. The Lions found in 'The Namib Desert' are genetically identical to those found in the rest of Southern Africa but have adapted to live in one of the harshest environments on earth. They number around 150 and have a huge range, and are rarely seen. They came to prominence in the outstanding documentary film 'Vanishing Kings'. The best chance of observing members of this subset of Lions is during a stay at Hoanib Skeleton Coast Camp, although sightings cannot be guaranteed and weeks can pass by without any success. Therefore a stay at this camp was at the heart of our itinerary and we were very lucky to spend time with a Lioness and her niece who had killed an Oryx in the conservancy. The camp itself is absolutely outstanding in every respect and the location is just spectacular.
Visitors should be aware that this is not 'The Serengeti' and that the wildlife is quite thin on the ground. However you would have to be very unlucky not to see Elephant, Giraffe and several other species. Whilst we were out in the desert we were lucky to bump in to Dr P. Stander who has dedicated the whole of his adult life to the conservation of The Desert Lion, what a thrill. The day trip out to the coast was pretty special as well.
The rest of the itinerary worked very well and we were very pleased to have three full days in Etosha N.P. where we recorded 25 mammal species, including 32 individual Lions, observed the aftermath of 4 zebra kills, 11 Rhinoceros (both Black & White), an African Wildcat and the rarely seen in Etosha, elusive Leopard.
So a big thank you to ALL at Reef and Rainforest, another highly successful trip, you certainly delivered again.