Namibia Walking, Wildlife and Wilderness Self-Drive
17 Days from £2606
per adult. All trip details below can be tailored just for you
To immerse oneself in Namibia's wilderness on foot is an unforgettable experience. This exceptional value, self-drive itinerary involves hiking in the Otavi and Erongo Mountains, climbing the towering dunes at Sossusvlei and trekking the beautiful wilderness of the southern NamibRand Nature Reserve, with the chance to sleep under the stars: a magical experience. The opportunity to learn in depth about Namibian ecology is enhanced by outstanding safari guides and the various animal species that will be encountered while walking. On the other hand, safaris in Etosha National Park for big cats, elephants, rhinos and other large game will take place from the safety of your vehicle. A coastal fix is provided in the shape of Swakopmund, a quaint colonial German town with plentiful offshore marine life. This itinerary comes highly recommended for active people who want a closer, more intimate connection with Namibia's natural environment, and at an affordable price.
Price from £2606
per adult. Based on sharing double / twin rooms
Day 1
Includes In-flight Meals.
Day 2
Arrive Windhoek, met on arrival and transfer to the centre of the city. There will be a briefing session and information given, and the hire car will be delivered to you.
Staying at Rivendell Guest House. Includes Breakfast.
Day 3
Self-drive to Mundulea Nature Reserve in the ancient Otavi Mountains and meet your expert guide. The rest of the day is free to explore the beautiful area, discovering its fauna and flora.
Staying at Mundulea Bush Camp. Includes All Meals.
Day 4
Day for guided hiking in Mundulea Nature Reserve. Your guide is one of the best in Namibia and his interpretation of the bush will reward you with fascinating insights into the area's natural history.
Staying at Mundulea Bush Camp. Includes All Meals.
Day 5
Another day of guided hiking in Mundulea Nature Reserve. Your intimate tented camp has only four double rooms.
Staying at Mundulea Bush Camp. Includes All Meals.
Day 6
Say farewell and drive to the eastern part of the Etosha National Park for a self-drive safari in Etosha (if time allows) or just relax in the lovely surroundings at the lodge.
Staying at Onguma Bush Camp. Includes Breakfast and Dinner.
Day 7
Today take a leisurely drive westwards through Etosha National Park, game viewing as you go. The Etosha pan is a large salt pan formed by wind action fringed by woodlands which supports a great diversity of flora and fauna. The park is known for its large concentrations of game particularly around waterholes and the attractive endemic race of black-faced impala and populations of black and white rhino. Arrive at Okaukeujo later in the day. Optional night time safari for nocturnal animals in an open safari vehicle or simply enjoy animals coming to you at the camp's famous waterhole.
Staying at Okaukuejo Camp. Includes Breakfast.
Day 8
Head south to the Erongo Mountains. Walk amongst the impressive granite rocks – some eroded over millennia by the wind into bizarre shapes – and discover the weird and wonderful desert adapted flora that survives in this environment.
Staying at Erongo Wilderness Lodge. Includes Breakfast and Dinner.
Day 9
A day to explore the Erongo Mountains famed for their lovely scenery, special bird life and ancient rock paintings.
Staying at Erongo Wilderness Lodge. Includes Breakfast and Dinner.
Day 10
Drive to Swakopmund on the north west coast. On arrival there will be time to explore this seaside town and arrange tomorrow's activities. The rest of the day is at leisure. There are plenty of shops, restaurants and attractive colonial architecture to enjoy on a walk around this safe town.
Staying at Cornerstone Guesthouse. Includes Breakfast.
Day 11
Day at leisure in Swakopmund. Optional excursions include sea kayaking or a luxury catamaran cruise from Walvis Bay in search of dolphins, fur seals and other marine wildlife. Also possible are interpretive tours of the desert, a scenic flight over the extraordinary Namib Great Dune Sea and coast seeing shipwrecks and abandoned diamond mines, visits to a museum and more.
Staying at Cornerstone Guesthouse. Includes Breakfast.
Day 12
Namib-Naukluft National Park
Drive south to your lodge next to the Namib-Naukluft National Park.
There may be time for afternoon optional excursions such as horse riding, guided walks or bird watching.

Staying at Desert Homestead Lodge. Includes Breakfast and Dinner.
Day 13
Namib-Naukluft National Park
Self-drive to Sesriem and into the Namib-Naukluft National Park. Take a stunning walk or (optional) shuttle to Sossusvlei and Dead Vlei, or try the drive in your 4x4 depending on previous off road experience. Return to Sesriem and visit the Sesriem Canyon. Then drive further south to the NamibRand Nature Reserve. Introduction and walk to the first camp on the Tok Tokkie Trail.
Staying at Tok Tokkie Trails. Includes All Meals.
Day 14
Day of walking in the stunning NamibRand with Tok Tokkie Trails. The huge private reserve contains some breathtaking landscapes and wildlife populations.
Staying at Tok Tokkie Trails. Includes All Meals.
Day 15
Final day of walking in the NamibRand. Then drive to the next lodge, situated close to the dramatic Gamsberg Pass at the foot of the Gamsberg Mountain. There are plenty of hiking trails on the property to explore. Optional sundowner drive to celebrate your final night in Namibia.
Staying at Corona Guest Farm. Includes Breakfast and Dinner.
Day 16
Self-drive over the scenic Khomas Hochland back to Windhoek airport. Return your hire vehicle. Connect with flight back to the UK.
Includes In-flight Meals.
Day 17
Includes In-flight Meals.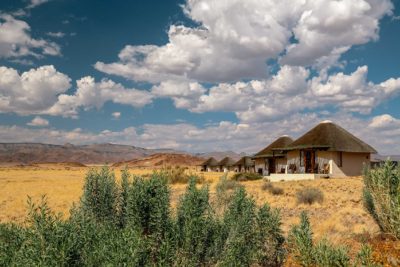 Overview
The Desert Homestead Lodge offers relaxed rustic hospitality with a natural atmosphere. Accommodation in the form of traditional style houses is spread amongst a beautiful desert game reserve, providing comfort and style alongside total immersion in nature. Early in 2014 the lodge was renovated and upgraded with environment-friendly technology. Thus, solar power is now the only energy source for power generation and water heating.
Located 30km south-east of Sesriem, the Desert Homestead Lodge is the perfect starting point for tours to the Namib-Naukluft National Park, and to Sossusvlei and the Sesriem Canyon – an ideal oasis of relaxation after a day-trip to the world's highest dunes. The lodge is located in a private nature reserve close by the Unesco World Heritage site of the Namib Sand Sea.
There are 20 chalets decorated and built in the style of traditional farm buildings, creating quaint and cosy accommodation. There is also one Reiterhaus, or family house, which is slightly larger, incorporating a combined living area and bedroom which can sleep a family of up to four people.
Facilities
The main house offers a swimming pool with sundeck and shaded areas, bar and restaurant, safety deposit box at the reception, laundry service, Wi-Fi and souvenir shop. Each room has a private shaded sun deck, mosquito nets, air conditioning and standard amenities.
Local Wildlife
Wildlife biodiversity is high in reptiles with around 70 species with 25 endemic or near-endemic to the Namib Desert. The wedge-snouted sand lizard, small-scaled sand lizard, web-footed gecko, barking gecko and Namib day gecko all dive beneath the sand when they sense danger. Small rodents include Grant's golden mole which can 'swim' through the sand dunes, gerbils, the Namaqua dune mole rat, the Namib long-eared bat and Angola wing-gland bat which feed on the dune dwelling insects. This is also the home to Peringuey's adder (Namib Desert sidewinder) – an ambush hunter that buries itself beneath the sand, with only the eyes and tip of its tail exposed, waiting for prey such as desert lizards. The Namaqua chameleon is also specially adapted to the desert, digging holes and changing colour throughout the day to help thermoregulation and excreting salt from nasal glands to conserve water. They stalk prey such as beetles, crickets, scorpions and lizards, and are in turn hunted by hawks, eagles and jackals.
Desert insects includes tiny endemic Namib Desert darkling beetles or "fog beetles" which use their bodies as fog collectors by assuming the characteristic fog-basking pose, while the 'flying saucer trench beetle' digs trenches to capture the fog's moisture to drink.
Larger animals of the Namib include gemsbok (oryx) which can regulate their body temperature and survive for weeks without drinking, springbok, klipspringer, steenbok and Hartmann's zebra towards the eastern boundary. Predators include spotted and brown hyena, cheetah, Cape fox and bat-eared fox. Other species such as baboon and leopard are mostly confined to the rivers.
Of the 180 bird species found in the Namib Desert, the most prominent is the ostrich. There are six endemic birds: the dune lark, Benguela long-billed lark, Gray's lark, bank cormorant, tractrac chat, and Rüppell's korhaan. As the environment is so harsh, most birds of the Namib are concentrated along the coastline, with hotspots in Walvis Bay and Sandwich Harbour areas.
Optional Activities
The Desert Homestead Lodge is famous for its guided trail rides in the Namib desert. Guided rides are offered twice a day in the early morning and close to sunset. Horse riding safaris lasting several days can be booked by experienced riders as well as beginners. Spending the night in a romantic tent under the starry sky of the Namib desert will be an unforgettable experience.
There is a well-marked 10km walking or running track from the lodge. Guided hikes between lodges in the Sossusvlei region combined with two overnight stays at Desert Homestead Lodge and Desert Homestead Outpost can be arranged, or there are also shorter walks available from the lodge itself. Sunset hot air balloon rides over the Namib desert are available.
This tour has no set departure date and can be tailored to suit your travel requirements. Contact us for more details.
Are International Flights Included?
No. Please contact us for a quote if required.
Flight Info:
Fly from London to Windhoek
Best Visited:
January to January
Are you ATOL Registered?
Yes. This means we are legally able to book your international flights in conjunction with your ground arrangements so you can book with us with complete confidence. Read more about our ATOL license here.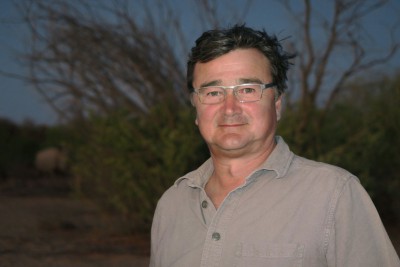 Alan Godwin
Area Specialist
The hiking on the Tok Tokkie Trail is leisurely and rarely exceeds 10km (6 miles) per day. Try to leave enough time for horse riding at Desert Homestead.
If you have any questions regarding this Tour, please feel free to contact me on +44 (0)1803 866965
Beautiful country with a wide range of opportunities on offer – wildlife viewing, varied scenery, culture and memorable sunsets. The colours, shapes and shadows of the Dead Ulei at dawn will stay with me forever. Very helpful and informative discussions with Alan Godwin before booking.  Everyone in country did their bit at the right time in the right place. I felt very well looked after. The care and attention to detail was outstanding and this helped me to relax and enjoy the experience and enabled me to begin to make new but different memories.