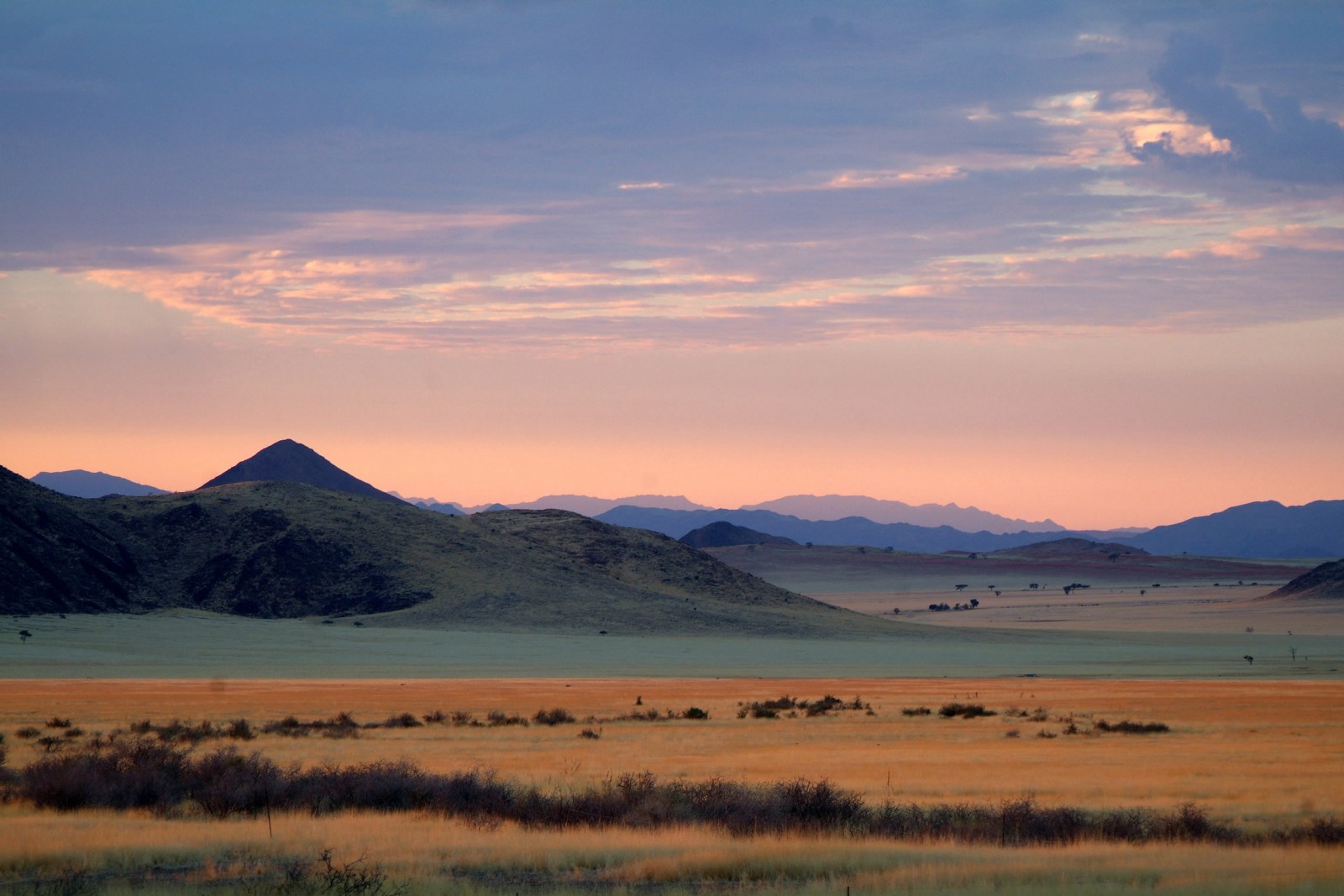 A Romantic Namibia Honeymoon
15 Days from £8928
per adult. All trip details below can be tailored just for you
This is an indulgent fly-in honeymoon for lucky newlyweds (of course) and other longer term romantics who simply feel they're worth it. The excellent lodges provide exceptional accommodation, great wildlife, wide open spaces and beautiful vistas, especially the increasingly spectacular landscapes below as you fly to Wolwedans in the private NamibRand Nature Reserve. The immense dunes at Sossusvlei with their stunning colours are next, followed (from the air) by the sheer scale and intricacy of the shapes and patterns that occur in the secret expanse of the Namib Desert dune 'sea'. Fly next along the scenic coast with its shipwreck 'skeletons', abandoned diamond mines and seal colonies, over ever-changing geological formations to Damaraland and your beautiful honeymoon suite. Search for desert adapted elephants and learn about the area's ancient human story at Twyfelfontein before enjoying fabulous safaris in Ongava, Etosha and Okonjima. With its luxury lodges and agreeable mix of air and road transport enabling optimum time to be spent on enjoyment, there could not be a better start to married life.
Price from £8928
per adult. Based on sharing double / twin rooms
Day 1
Includes In-flight Meals.
Day 2
GocheGanas Private Wildlife Reserve
Arrive Windhoek, met on arrival and transfer 29km to GocheGanas. The rest of the day is at leisure to relax or for optional spa treatments, game drives, or to simply enjoy the pool and the wonderful view.
Staying at GocheGanas Lodge and Spa. Includes Breakfast and Dinner.
Day 3
Transfer to the airport. Take a charter flight to the NamibRand Nature Reserve. In the afternoon there will be a nature drive with sundowners to finish the day. The NamibRand is one the largest private reserves in Southern Africa and protects the Namib Desert border habitats.
Staying at Wolwedans Dunes Lodge. Includes All Meals.
Day 4
Day of excursions from Wolwedens in the NamibRand Nature Reserve. Excursions could include walking safaris and scenic drives to marvel at the stark beauty of the dramatic landscape and geology of the area and discover the desert adapted flora and fauna. Other optional activities that could be arranged include hot air ballooning, scenic flights over the dunes, horse riding and village visits.
Staying at Wolwedans Dunes Lodge. Includes All Meals.
Day 5
Transfer through beautiful scenery to Kulala Reserve, near Sossusvlei. After arrival visit the huge Sesriem Canyon full of beautifully sculpted rock that dates back 30 million years. Alternatively enjoy a nature drive in the Kulala Reserve, a 37,000 hectare property with desert adapted species such as bat-eared fox, dune lark and barking gecko. Sometimes larger mammals visit the waterhole by the lodge.
Staying at Little Kulala. Includes All Meals.
Day 6
Morning to visit the spectacular sand dunes in the Namib Desert, Sossusvlei and Dead Vlei. The beautiful dune systems are a fascinating geological sight and provide wonderful photographic opportunities. The afternoon is at leisure or perhaps choose another nature drive.
Staying at Little Kulala. Includes All Meals.
Day 7
Today you will take what could be the most beautifully scenic flight of your life. Soar over the Namib Desert sand sea and along the stark Skeleton Coast, passing over shipwrecks, abandoned diamond mines and large seal colonies to Swakopmund. Stop for refuelling, then continue onward, flying over ever-changing geological patterns to Damaraland. Met on arrival and transfer to the lodge. Afternoon to visit the Twyfelfontein rock engravings, designated a World Heritage site for their historic importance.
Staying at Mowani Mountain Camp - Honeymoon Suite. Includes All Meals.
Day 8
A day to enjoy the scenery and wildlife of the Damaraland region. In the morning search for a herd of the uniquely desert adapted elephants in the Aba-Huab River. In the afternoon, enjoy a guided nature walk or spend the time to relax at the lodge with its sensational views.
Staying at Mowani Mountain Camp - Honeymoon Suite. Includes All Meals.
Day 9
Ongava Private Game Reserve
Guided drive to the Ongava Private Game Reserve, visiting the Petrified Forest en route. In the afternoon enjoy a safari in Ongava Private Game Reserve which covers an area of 30,000 hectares and is home to a diversity of antelope species such as gemsbok, kudu, springbok, eland and red hartebeest; mountain and common zebra are also present, as are giraffe, lion and populations of both black and white rhino.
Staying at Ongava Lodge. Includes All Meals.
Day 10
Day on safari in Etosha National Park moving at a leisurely pace towards the east. The Etosha pan is a large saltpan formed by wind action and supports a great diversity of flora and fauna. The park is known for its large concentrations of game, particularly around waterholes, the attractive endemic race of black-faced impala and populations of black and white rhino. In the early morning and towards dusk, sightings of cats, hyenas, jackals and sometimes even honey badgers can be quite regular. There is an extensive list of bird species found in the area, including 10 endemics.
Staying at Mushara Outpost Lodge. Includes All Meals.
Day 11
A day for more game drives in Etosha National Park with your private guide, with time to relax as you wish.
Staying at Mushara Outpost Lodge. Includes All Meals.
Day 12
Drive to Okonjima Nature Reserve. The Okonjima reserve is about 20,000 hectares and has been created to provide a refuge for wildlife and in particular large carnivores that are suffering from persecution in the region. In the afternoon there will be activities with the Africat project such as visits to the leopard and cheetah rehabilitation projects, tracking leopards, cheetahs, wild dogs and hyenas, and following guided walking trails.
Staying at Okonjima Bush Camp. Includes All Meals.
Day 13
Another day for activities with AfriCat in the Okonjima Nature Reserve. In the evening perhaps visit the hide where there are regular visits from elusive nocturnal animals such as Cape porcupine, eagle owl and honey badger.
Staying at Okonjima Bush Camp. Includes All Meals.
Day 14
A relaxed morning or another AfriCat excursion if desired. Then return to Windhoek in the afternoon and connect with flight to the UK.
Includes In-flight Meals.
Day 15
Includes In-flight Meals.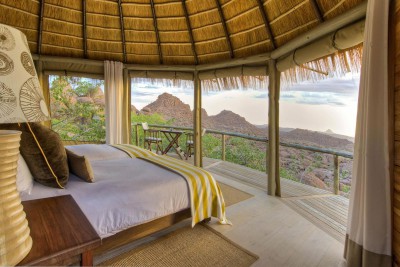 Overview
Mowani Mountain Camp is a traditional African safari style property with just 12 luxury tented rooms spread across a rocky outcrop providing stunning views across the plains of Damaraland. The camp is in the south of the great Damaraland region between the Ugab and the Huab rivers and is the luxury sister property of Camp Kipwe. It is perfectly suited to honeymooners and other couples who might be on second honeymoons.
There are two choices of tented rooms: the Superior View Rooms (as the name suggests) have outstanding panoramic views of the dramatic desert landscape and are positioned on the edge of the camp giving plenty of privacy. Standard Rooms lack the sensational views being more centrally positioned yet are skilfully built around the huge granite boulders. In addition, two suites are available: the Mini Suite with a/c living area and satellite TV, and the Mountain Suite with additional butler service, a/c living room, private dining, CD music centre and bar.
All the tents have private bathrooms and smart colonial décor with lavish furniture, tea and coffee making facilities, safety deposit box, and large comfortable twin beds with mosquito netting.
At the heart of the camp is a beautiful thatched dome building with an elegant dining room and lounge, and just below is a small but inviting swimming pool nestled between ancient rocks complete with sun loungers and extensive views.
The camp has a communal camp fire for evening drinks and discussions, and there is a beautiful rock a little further away designated as a sundowner spot for those looking for extra privacy.
Activities include game drives and nature walks and the local population of desert-adapted elephants can often be tracked down.
Facilities
Private bathrooms, dining room, lounge, swimming pool, cable TV, safety deposit box and laundry service.
Local Wildlife
The wildlife in the area occurs in low densities but springbok, besia oryx, Hartmann's mountain zebra, black-backed jackal, birds and rhino are present.
Optional Activities
Longer excursions to see the rock art at Twyfelfontein, the geology at Burnt Mountain and the Organ Pipes are also available.
This tour has no set departure date and can be tailored to suit your travel requirements. Contact us for more details.
Are International Flights Included?
No. Please contact us for a quote if required.
Flight Info:
Fly from London to Windhoek
Best Visited:
January to January
Are you ATOL Registered?
Yes. This means we are legally able to book your international flights in conjunction with your ground arrangements so you can book with us with complete confidence. Read more about our ATOL license here.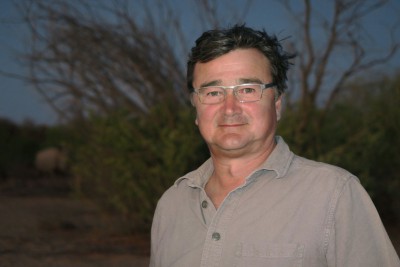 Alan Godwin
Area Specialist
For a more intimate experience upgrade to Ongava Tented Camp. You could choose to have your actual wedding at Wolwedans.
If you have any questions regarding this Tour, please feel free to contact me on +44 (0)1803 866965
This was our second visit to Namibia in just over 12 months, with Reef and Rainforest and our seventh consecutive wildlife trip with them. I think that speaks for itself. This year we were particularly keen to try and observe some desert adapted Lions. The Lions found in 'The Namib Desert' are genetically identical to those found in the rest of Southern Africa but have adapted to live in one of the harshest environments on earth. They number around 150 and have a huge range, and are rarely seen. They came to prominence in the outstanding documentary film 'Vanishing Kings'. The best chance of observing members of this subset of Lions is during a stay at Hoanib Skeleton Coast Camp, although sightings cannot be guaranteed and weeks can pass by without any success. Therefore a stay at this camp was at the heart of our itinerary and we were very lucky to spend time with a Lioness and her niece who had killed an Oryx in the conservancy. The camp itself is absolutely outstanding in every respect and the location is just spectacular.
Visitors should be aware that this is not 'The Serengeti' and that the wildlife is quite thin on the ground. However you would have to be very unlucky not to see Elephant, Giraffe and several other species. Whilst we were out in the desert we were lucky to bump in to Dr P. Stander who has dedicated the whole of his adult life to the conservation of The Desert Lion, what a thrill. The day trip out to the coast was pretty special as well.
The rest of the itinerary worked very well and we were very pleased to have three full days in Etosha N.P. where we recorded 25 mammal species, including 32 individual Lions, observed the aftermath of 4 zebra kills, 11 Rhinoceros (both Black & White), an African Wildcat and the rarely seen in Etosha, elusive Leopard.
So a big thank you to ALL at Reef and Rainforest, another highly successful trip, you certainly delivered again.