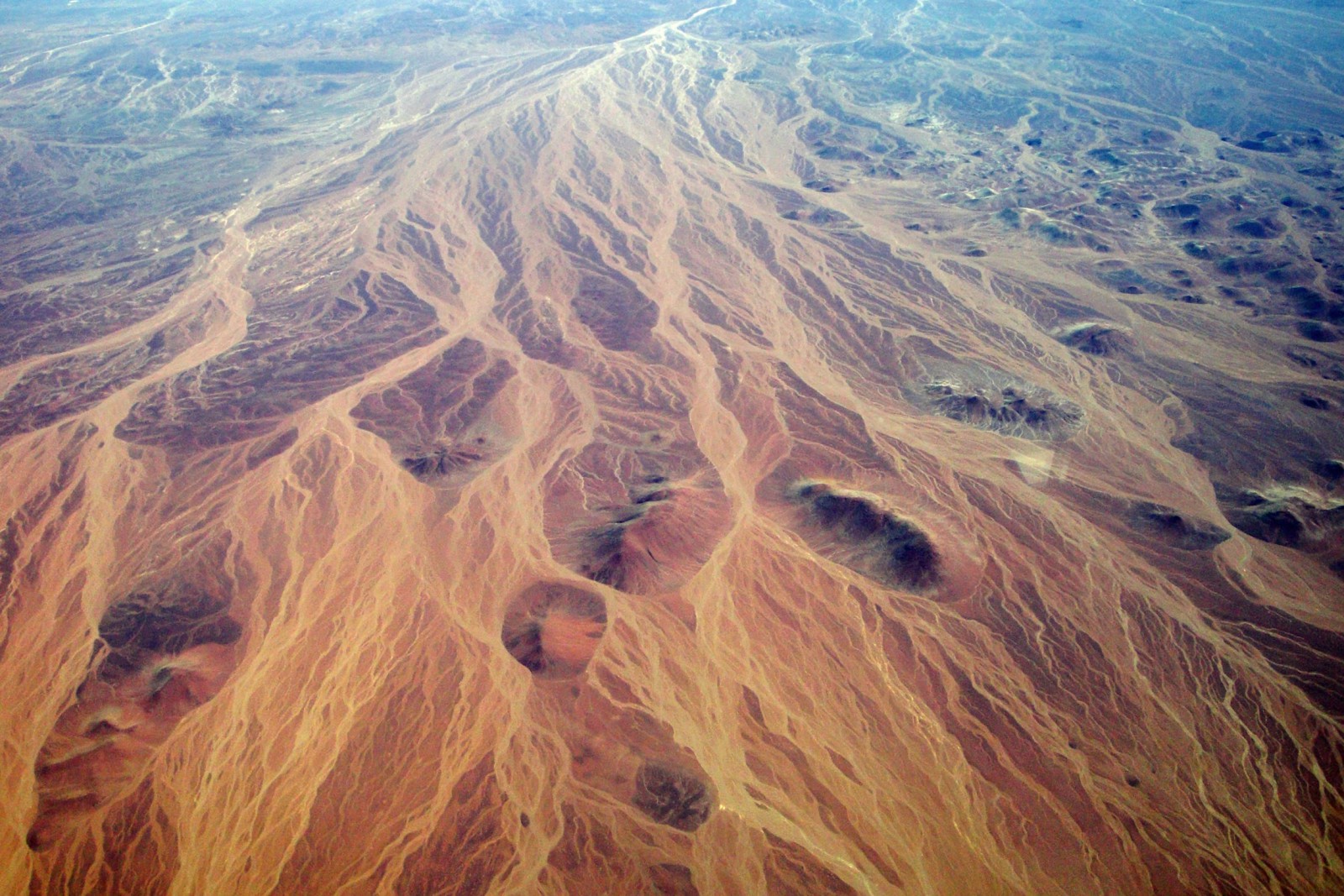 A Namibian Wilderness Extravaganza by Air
15 Days from £9490
per adult. All trip details below can be tailored just for you
Seeing Namibia from the air is an extraordinarily emotive experience – with the added bonus that it cuts out long car journeys. Flying in light aircraft is by far the best way to travel around Namibia as it allows much more time for you to enjoy the fabulous lodges, vistas and game drives.
This fly-in safari takes you to the towering dunes of the Namib Naukluft National Park, over the vast, harsh and intricately beautiful dune 'sea' to the coastline, then north to Damaraland. After some time there seeking out the local desert adapted elephants, you fly to the private Palmwag Concession for a very special experience tracking endangered, rare black rhinos in this beautiful wilderness.
Then a flight over the Skeleton Coast with its stark shipwrecks and strange fairy circles takes you to the remote Kunene region in the far north of Namibia and the incomparable Serra Cafema lodge. Located by the perennially flowing Kunene River, this is a land of striking contrasts, having lush oases, dunes and mountains. It is home to wetland species not found elsewhere in the country and also the nomadic Himba tribe which retain their traditional customs and modes of dress. Finally, you fly to Ongava for superb safaris within their private game reserve and the incomparable Etosha National Park, seeing an extraordinary abundance of game. We confidently predict you will come away stunned by the unimaginable beauty you have witnessed both on the ground and from the air.
Price from £9490
per adult. Based on sharing double / twin rooms
Day 1
Includes In-flight Meals.
Day 2
Arrive Windhoek, and met on arrival. There is the option to go out for a sightseeing tour in the afternoon, or to transfer straight to your comfortable guesthouse and just relax after the journey.
Staying at Olive Grove. Includes Breakfast.
Day 3
Transfer to the airport and take a charter flight over increasingly beautiful landscapes to the Kulala Reserve in the Namib Desert near Sossusvlei. On arrival visit the Sesriem Canyon or enjoy nature drives in the Kulala Reserve.
Staying at Kulala Desert Lodge. Includes All Meals.
Day 4
Morning visit to the impressive sand dunes in the Namib Desert, Sossusvlei and Dead Vlei. Afternoon at leisure or take another game drive.
Staying at Kulala Desert Lodge. Includes All Meals.
Day 5
Today enjoy what promises to be the most stunningly beautiful scenic flight of your life, tracking over the Namib Desert sand 'sea' to the Atlantic coast, overflying shipwrecks and abandoned diamond mines and seal colonies to Swakopmund. Stop for refuelling, and then continue to fly over the ever-changing geological patterns to Damaraland. Met on arrival and transfer to the lodge. Afternoon to visit the Twyfelfontein rock engravings, designated a UNESCO World Heritage Site for their global historic importance.
Staying at Doro Nawas. Includes All Meals.
Day 6
A day to enjoy the scenery and wildlife of the Damaraland region. In the morning search for a herd of the uniquely desert adapted elephants in the Aba-Huab River. In the afternoon, enjoy a guided nature walk or spend time relaxing at the lodge and admiring its sensational views.
Staying at Doro Nawas. Includes All Meals.
Day 7
Take a charter flight to the Palmwag Concession's Desert Rhino Camp. On arrival enjoy a scenic game drive to the camp in the private Palmwag Concession.
Staying at Desert Rhino Camp. Includes All Meals.
Day 8
Day of excursions in the Palmwag Concession, searching for wild desert adapted black rhinos. The Palmwag Concession protects the largest population of highly endangered black rhinos left in Africa. Many other iconic desert species could be seen too including elephant, Hartman's mountain zebra, kudu, springbok, gemsbok and predators including lion, leopard, cheetah, spotted hyena and, if very lucky, the rare and elusive brown hyena.
Staying at Desert Rhino Camp. Includes All Meals.
Day 9
In the morning take another scenic drive to the airstrip. Catch your charter flight to Serra Cafema, seeing more amazing aerial landscapes. On arrival transfer to the luxury lodge in an open game-viewing vehicle to enjoy the scenery and spot wildlife. There will be an afternoon activity: either a boat ride on the Kunene River or a quad bike excursion into the remote Hartmann Valley.
Staying at Serra Cafema. Includes All Meals.
Day 10
Day of activities from Serra Cafema lodge which could include exciting game drives into the Hartmann Valley, guided quad bike rides, a boat trip along the Kunene River where huge Nile crocodiles bask on sandbars, or visit a local Himba community for an insight into their ancient way of life, naturally adapted to their harsh desert environment.
Staying at Serra Cafema. Includes All Meals.
Day 11
Ongava Private Game Reserve
Take a charter flight to the Ongava Private Game Reserve. After lunch enjoy a game drive. The private reserve covers an area of 30,000 hectares and is home to a diversity of antelope species such as the attractive gemsbok, kudu, springbok, eland and red hartebeest, as well as mountain and common zebra, giraffe, lion and a population of both black and white rhino – it is very rare to see both together.
Staying at Ongava Tented Camp. Includes All Meals.
Day 12
Ongava Private Game Reserve
Day on safari in Ongava Private Game Reserve and Etosha National Park. The Etosha pan is a large saltpan formed by wind action fringed by trees and bush which supports a great diversity of fauna. The park is known for its large concentrations of game, particularly around waterholes, and the attractive endemic race of black-faced impala and populations of black and white rhino. In the early mornings and towards dusk, sightings of cats, hyenas, jackals, and sometimes even honey badgers are quite regular. There is an extensive list of bird species found in the area, including 10 endemics.
Staying at Ongava Tented Camp. Includes All Meals.
Day 13
Ongava Private Game Reserve
Another day on safari in Ongava Private Game Reserve and Etosha National Park. Time to relax and watch wildlife come to the lodge's waterhole, which could include a pride of lions or an elusive black rhino.
Staying at Ongava Tented Camp. Includes All Meals.
Day 14
Charter flight to Windhoek airport with assistance provided on arrival to connect with onward flight to the UK. Depart Namibia.
Includes In-flight Meals.
Day 15
Includes In-flight Meals.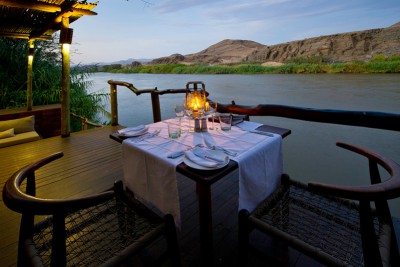 Overview
Serra Cafema is a remote, luxurious safari camp on the banks of the flowing Kunene River in the remote Hartmann Valley of the northwest. The river marks the border with Angola, so you can't go much further north in Namibia. The accommodation is in eight elegant thatched, canvas-sided villas offering plenty of space with living area, private bathroom, ceiling fan and mosquito net. The villas have smart traditional décor inspired by the local Himba people and an outside raised decking area, ideal for relaxing after a day of desert exploration.
The main building has both indoor and outdoor dining tables, a comfortable lounge and small library and local craft shop. There is a communal decking area with a small swimming pool with far reaching views down the river valley. Families can be catered for and there is also a special honeymoon suite with outstanding river views.
The lodge is one of the remotest in Namibia – indeed, in southern Africa – and enables deep exploration of the wilderness of the Namib Desert. Many excursions are offered as part of a stay at the lodge including visits to the local Himba settlements, birding walks, four-wheel drive and quad biking safaris across the vast sand dunes, and boat trips along the Kunene River in search of birds, baboons and large Nile crocodiles (you might even embark briefly on the Angolan side for snacks, but no need for your passport).
A speciality of the lodge is its al fresco breakfast atop rocky outcrops with unforgettable views across the desert landscape. Guided walks in the Marienfluss Mountains in search of the fascinating Namaqua chameleon are also available.
Facilities
Dining room, lounge, ceiling fans, library, swimming pool, mosquito net and sun deck
Local Wildlife
The Kunene River is the only source of permanent water in the region and therefore much of the wildlife is concentrated in and around it. Springbok, gemsbok, Nile crocodile, water monitor lizard and a good diversity of birds including the goliath heron, Burchell's courser and Benguela long-billed lark. In the surrounding desert are found cape fox and specialist reptiles such as agama and desert plated lizards, horned adders and the Namaqua chameleon.
Optional Activities
Game drives, quad biking and walks across the Namib Desert and boat trips along the Kunene River. Visits to the local Himba tribes and romantic meals with magnificent desert views are also available.
This tour has no set departure date and can be tailored to suit your travel requirements. Contact us for more details.
Are International Flights Included?
No. Please contact us for a quote if required.
Flight Info:
Fly from London to Windhoek
Best Visited:
January to January
Are you ATOL Registered?
Yes. This means we are legally able to book your international flights in conjunction with your ground arrangements so you can book with us with complete confidence. Read more about our ATOL license here.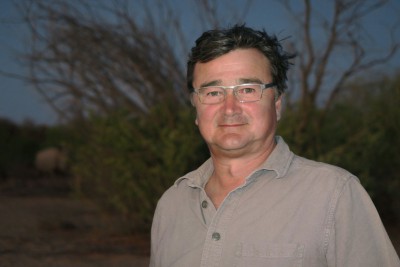 Alan Godwin
Area Specialist
Make sure you have your camera to hand on each and every flight to capture the surreal range of landscapes.
If you have any questions regarding this Tour, please feel free to contact me on +44 (0)1803 866965
This was our second visit to Namibia in just over 12 months, with Reef and Rainforest and our seventh consecutive wildlife trip with them. I think that speaks for itself. This year we were particularly keen to try and observe some desert adapted Lions. The Lions found in 'The Namib Desert' are genetically identical to those found in the rest of Southern Africa but have adapted to live in one of the harshest environments on earth. They number around 150 and have a huge range, and are rarely seen. They came to prominence in the outstanding documentary film 'Vanishing Kings'. The best chance of observing members of this subset of Lions is during a stay at Hoanib Skeleton Coast Camp, although sightings cannot be guaranteed and weeks can pass by without any success. Therefore a stay at this camp was at the heart of our itinerary and we were very lucky to spend time with a Lioness and her niece who had killed an Oryx in the conservancy. The camp itself is absolutely outstanding in every respect and the location is just spectacular.
Visitors should be aware that this is not 'The Serengeti' and that the wildlife is quite thin on the ground. However you would have to be very unlucky not to see Elephant, Giraffe and several other species. Whilst we were out in the desert we were lucky to bump in to Dr P. Stander who has dedicated the whole of his adult life to the conservation of The Desert Lion, what a thrill. The day trip out to the coast was pretty special as well.
The rest of the itinerary worked very well and we were very pleased to have three full days in Etosha N.P. where we recorded 25 mammal species, including 32 individual Lions, observed the aftermath of 4 zebra kills, 11 Rhinoceros (both Black & White), an African Wildcat and the rarely seen in Etosha, elusive Leopard.
So a big thank you to ALL at Reef and Rainforest, another highly successful trip, you certainly delivered again.