Super-Scenic Namibian Wildlife Safari Deluxe
13 Days from £6043
per adult.
This high quality, part fly-in, part self-drive itinerary reveals multiple stunning vistas of Namibia's immense beauty from both ground level and above, while providing luxury accommodation and excellent guiding. Be truly awed by the sheer scale of this harsh, parched wilderness and the intricate, almost surreal patterns, colours and shapes visible from your bird's eye viewpoint. Adding to that lofty perspective, it is even more difficult to comprehend how the desert adapted elephants, lions, black rhinos, springbok, ostriches and other animals and plants survive in those arid conditions when viewed from the ground. This extraordinarily varied itinerary is mind-blowing in all its facets and provides a truly privileged insight into this unique destination.
Price from £6043
per adult. Based on sharing double / twin rooms
Day 1
Arrive in Windhoek. Met by your guide and enjoy a city tour. Transfer to the hotel later in the day.
Staying at The Olive Exclusive Boutique Hotel. Includes All Meals.
Day 2
Transfer to the airport and board charter flight to the private NamibRand Nature Reserve. Afternoon excursion in the stunning NamibRand dunes to discover the geography and wildlife of the huge reserve. The mighty dunes and open vistas provide an unforgettable scenic experience as well as plenty of photographic opportunities.
Staying at Sossusvlei Desert Lodge. Includes All Meals.
Day 3
Morning excursion to Sossusvlei and Dead Vlei. These two natural clay pans offer sensational natural wonders with outstanding photographic opportunities. The moon-like landscape includes sand dunes over 300 metres high and trees over 500 years old. After lunch return to the lodge via the Sesriem Canyon. Optional excursions from the lodge: quad biking, horse riding, guided nature walks and sundowner drive.
Staying at Sossusvlei Desert Lodge. Includes All Meals.
Day 4
Today, drive to Geluk airstrip and take what promises to be the most stunningly beautiful scenic flight of your life over the Namib Desert sand sea to the coast, with shipwrecks, abandoned diamond mines and seal colonies, to Swakopmund. Stop for refuelling, then fly over ever-changing geological patterns to the Desert Rhino Camp. Afternoon game drives or walks in the Palmwag Concession.
Staying at Desert Rhino Camp. Includes All Meals.
Day 5
Full day of guided excursions in the 450,000 hectare Palmwag Concession. The reserve is mainly an area of rocky hills and a desert home to a stable population of the endangered black rhino, which has specially adapted to the challenging desert conditions. Spend time tracking the rhino, including the opportunity to approach on foot.
Staying at Desert Rhino Camp. Includes All Meals.
Day 6
Scenic drive from the lodge to Palmwag entrance gate. Pick up your hire car and self-drive into dramatic Damaraland to your next lodge, maybe en route stopping at the Twyfelfontein Rock Engravings (World Heritage Site). Spend the afternoon searching for desert-adapted elephants in the ephemeral riverbeds.
Staying at Mowani Mountain Camp. Includes All Meals.
Day 7
Morning in Damaraland to look for elephant herds in the Aba-Huab River. Afternoon excursions could include a nature drive or walk or simply relax and enjoy your stunning surroundings. Hot air ballooning can be arranged at an additional charge.
Staying at Mowani Mountain Camp. Includes All Meals.
Day 8
Ongava Private Game Reserve
Today drive to Ongava Private Game Reserve, perhaps via the Petrified Forest. Afternoon game drives in the Ongava Private Game Reserve. The private reserve covers an area of 30,000 hectares and is home to a wide diversity of antelope species such as gemsbok, kudu, springbok, eland, red hartebeest, and mountain and Burchell's zebra, giraffe, lion and a population of both black and white rhinos.
Staying at Ongava Tented Camp. Includes All Meals.
Day 9
Day of safari activities in Ongava and Etosha National Park. The Etosha pan is a large saltpan formed by wind action and supports a great diversity of flora and fauna. The park is known for its large concentrations of game, particularly around waterhole, and the attractive endemic race of black-faced impala and important population of black and white rhino.
Staying at Ongava Tented Camp. Includes All Meals.
Day 10
Independent full day game drive across Etosha National Park to the eastern gate.
Staying at Onguma Tented Camp. Includes All Meals.
Day 11
Today, drive to Okonjima Nature Reserve, stopping at Lake Otjikoto en route. In the afternoon there will be activities run by the AfriCat project that could include visits to the cheetah and leopard rehabilitation centres, or tracking the cats and other wildlife of the reserve.
Staying at Okonjima Bush Camp. Includes All Meals.
Day 12
Morning and afternoon with the AfriCat team, tracking leopard, cheetah, wild dog and hyena and guided walking of trails.
Staying at Okonjima Bush Camp. Includes All Meals.
Day 13
There will be the chance for a pre-breakfast AfriCat activity, then after breakfast return to Windhoek. Connect with your international flight home.
Includes In-flight Meals.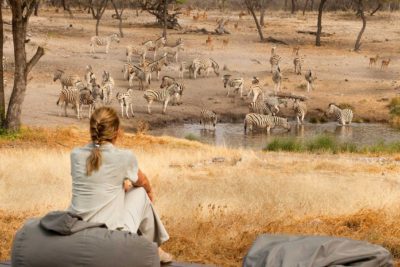 Overview
Ideal for romantics desiring the safari experience under canvas, Onguma Tented Camp offers seven luxuriously appointed safari tents, each overlooking the wonderfully active waterhole. In the local Herero language, Onguma means 'the place you won't want to leave', and with its tents offering the ultimate in safari chic it certainly lives up to its name.
Textures such as stone, suede, linen and steel create a setting that is sleek and modern but also inherently of the earth. Inspired by a photograph of an Oryx on Etosha's Fisher's Pan, the interior echoes the colours of its natural surrounds. Grey, charcoal, black, white, and creams, together with a touch of muted or unexpectedly bright green, adds sophistication and earthiness to the atmosphere.
An atmosphere of elegant dining prevails, complimented by the daily activities taking place around the watering hole, approximately 60 meters away. The surrounding nature lends itself to long lazy afternoons, spent relaxing on the sofas in the lounge, watching the animals go. And when things heat up, all that is required is a gentle stroll to the rim flow pool. Sit and relax in the flowing waters while enjoying an ice cold cooler.
Facilities
Each tent features an indoor and outdoor shower, bath, twin vanity area, minibar, safe, fans and mosquito nets.
Local Wildlife
Situated on the eastern side of Etosha, bordering Fisher's Pan, Onguma Game Reserve is one of Namibia's best kept secrets! Here you will be afforded the opportunity of experiencing Africa in all her beauty and diversity. Onguma Game Reserve has more than 34,000 hectares of protected land and wildlife.
Onguma nature reserve boasts over thirty different animal species consisting of plains game including kudu, giraffe, eland, oryx, hartebeest, zebra, impala and many more roam freely as well as predators such as lion, cheetah, leopard, being common residents of the area.
The latest addition to the already abundant wildlife at Onguma Game Reserve is a family of black rhinos! More than 300 bird species can also be viewed at Onguma Game Reserve. During the Namibian summer months the nature reserve becomes a bird-watcher's paradise with thousands of species migrating to the wetlands created by the seasonal rains and ephemeral river systems.
Optional Activities
Game drives in the nearby Etosha national park or sunset drives in Onguma park. Interpretative bush walks are also on offer with the lodge's experienced naturalist guides.
This tour has no set departure date and can be tailored to suit your travel requirements. Contact us for more details.
Are International Flights Included?
No. Please contact us for a quote if required.
Flight Info:
Fly from London to Windhoek
Best Visited:
January to January
Are you ATOL Registered?
Yes. This means we are legally able to book your international flights in conjunction with your ground arrangements so you can book with us with complete confidence. Read more about our ATOL license here.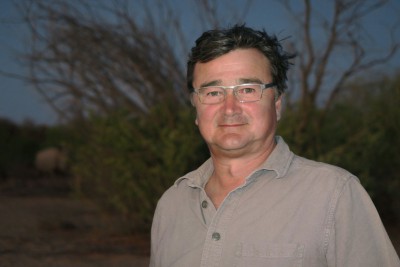 Alan Godwin
Area Specialist
If you are averse to self-drive, we can arrange for a qualified driver/guide to accompany you for the latter part of the tour from Day 7 (at extra cost).
If you have any questions regarding this Tour, please feel free to contact me on +44 (0)1803 866965
This was our second visit to Namibia in just over 12 months, with Reef and Rainforest and our seventh consecutive wildlife trip with them. I think that speaks for itself. This year we were particularly keen to try and observe some desert adapted Lions. The Lions found in 'The Namib Desert' are genetically identical to those found in the rest of Southern Africa but have adapted to live in one of the harshest environments on earth. They number around 150 and have a huge range, and are rarely seen. They came to prominence in the outstanding documentary film 'Vanishing Kings'. The best chance of observing members of this subset of Lions is during a stay at Hoanib Skeleton Coast Camp, although sightings cannot be guaranteed and weeks can pass by without any success. Therefore a stay at this camp was at the heart of our itinerary and we were very lucky to spend time with a Lioness and her niece who had killed an Oryx in the conservancy. The camp itself is absolutely outstanding in every respect and the location is just spectacular.
Visitors should be aware that this is not 'The Serengeti' and that the wildlife is quite thin on the ground. However you would have to be very unlucky not to see Elephant, Giraffe and several other species. Whilst we were out in the desert we were lucky to bump in to Dr P. Stander who has dedicated the whole of his adult life to the conservation of The Desert Lion, what a thrill. The day trip out to the coast was pretty special as well.
The rest of the itinerary worked very well and we were very pleased to have three full days in Etosha N.P. where we recorded 25 mammal species, including 32 individual Lions, observed the aftermath of 4 zebra kills, 11 Rhinoceros (both Black & White), an African Wildcat and the rarely seen in Etosha, elusive Leopard.
So a big thank you to ALL at Reef and Rainforest, another highly successful trip, you certainly delivered again.