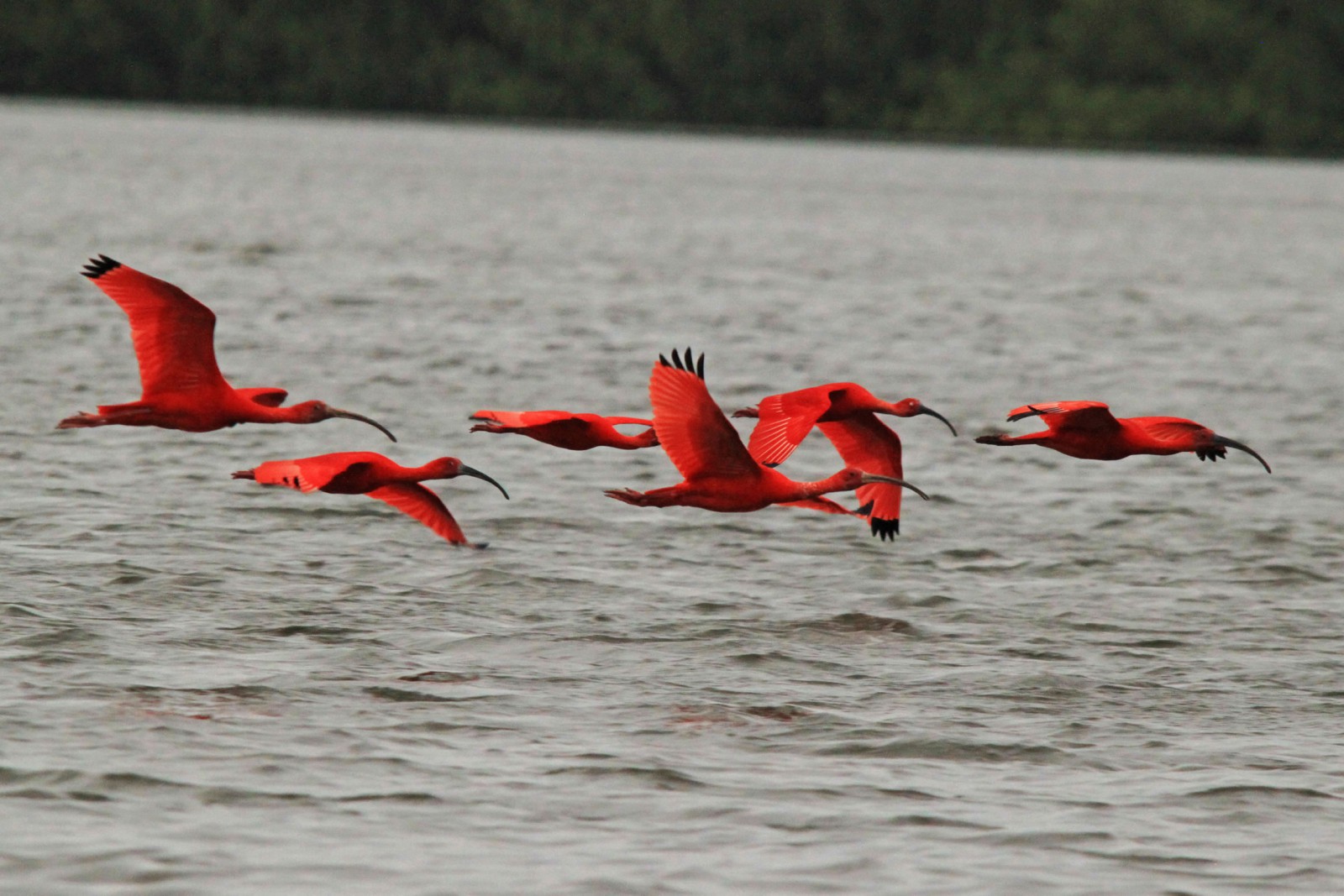 Guyana
,
Trinidad and Tobago
,
The Natural Highlights Of Guyana, Trinidad and Tobago
15 Days from £4058
per adult.
Combining two of Guyana's best wildlife highlights with the Caribbean islands of Trinidad and Tobago, this is an itinerary of tropical wildlife, beautiful beaches, exceptional snorkelling/diving and friendly, English-speaking populations. Guyana's premier wildlife lodge combines exceptionally well with the spectacular waterfall and cloud forests of Kaieteur and the colonial architecture of Georgetown, affording a comprehensive overview of the country and all its manifold attractions. Adding the famous Asa Wright Nature Centre on Trinidad and the white-sand beaches and coral reefs of Tobago results in a three centre holiday of great variety and attraction which should prove hugely stimulating and enjoyable.
Price from £4058
per adult. Based on sharing double / twin rooms
Day 1
Arrive in Georgetown, Guyana. Met on arrival and transfer to hotel.
Staying at Cara Lodge. Includes In-flight Meals.
Day 2
Fly to Karanambu. Met on arrival and transfer to the ranch located in the northern Rupununi region - a cross over area for wetlands, forests and savannahs. Karanambu is the home of the indomitable Diane McTurk who is well known for her work in rehabilitating orphaned giant otters back to the wild. Afternoon excursion exploring the waterways searching for wild giant otters, primates, black caiman and other wildlife.
Staying at Karanambu Ranch. Includes All Meals.
Day 3
Full day exploring the rivers and savannahs of Karanambu. Search for giant anteaters early in the morning on the nearby savannah. There will be further opportunities to explore the waterways and surrounding gallery forest in search of giant otters and birds such as the beautiful agami heron. In the evening Diane may share some stories from her long association with the area where she was born.
Staying at Karanambu Ranch. Includes All Meals.
Day 4
Full day of exploration around the ranch in search of wildlife. Some great birding can be done around the lodge and a particular highlight is the capuchinbird lek only a short walk away. In the evening there will be a visit to oxbow lakes to see the world's largest water lily, Victoria Amazonica, bloom at dusk. Returning to the lodge in the dark there will be the chance to find opossums, black caiman, Amazon tree boa and other exciting nocturnal wildlife along the rivers with spotlights.
Staying at Karanambu Ranch. Includes All Meals.
Day 5
Fly back to Georgetown in the morning. Afternoon guided city tour of the principal sites including St Andrews Kirk, St George's Church, Stabroek Market and the Botanical Gardens.
Staying at Cara Lodge. Includes Breakfast.
Day 6
Charter flight to Kaieteur Falls. Full day to explore the area with guide. With a drop of 741 feet, it is five times the height of Niagara but benefits from very few visitors and virtually no man-made infrastructure. The falls have even produced a special microclimate that has resulted in a cloud forest ecosystem supporting the massive tank bromeliad – the world's largest – which is home to the endemic Kaieteur golden frog. Return flight back to Georgetown.
Staying at Cara Lodge. Includes Breakfast and Lunch.
Day 7
Transfer to the airport and fly to Port of Spain, Trinidad. Transfer to Asa Wright Nature Centre. The afternoon is free to explore the grounds and do some birdwatching. Over 400 species of birds, 108 mammals, 55 reptiles, 25 amphibians and more than 600 butterflies have been recorded in the area near to the centre.
Staying at Asa Wright Nature Centre. Includes Breakfast and Dinner.
Day 8
Morning guided birdwatching excursions around the lodge to look for the diverse range of birds found in the nearby forest. The afternoon is at leisure, but a large number of birds can be seen in the garden of the lodge including many local specialties.
Staying at Asa Wright Nature Centre. Includes All Meals.
Day 9
Guided visit to the Dunston Cave to see the famous colony of fascinating oilbirds, the world's only nocturnal fruit-eating birds, which roost in the cave during the day: all very bat-like. In the afternoon visit Caroni swamp, an excellent example of a mangrove ecosystem. Many wetland birds can be seen here including large flocks of scarlet ibis returning to roost in the evening. With luck, the tiny silky anteater and impressive Cook's tree boa can be seen on boat trips through the mangroves.
Staying at Asa Wright Nature Centre. Includes Breakfast.
Day 10
Transfer to the airport and fly to Tobago. Met on arrival and transfer to Blue Waters Inn on the north east coast of the island. Rest of the day is at leisure.
Staying at Blue Waters Inn. Includes Breakfast.
Day 11
A day at leisure on Tobago. The hotel offers its own sandy beach and has 46 acres of gardens teeming with wildlife. There are optional activities on offer such as snorkelling and diving with chances to see hawksbill and green turtles, eagle and manta rays, and over 70 species of corals including some of the world's largest brain corals. Little Tobago is the island's largest bird sanctuary and is only a few minutes' boat ride away, or take a longer boat ride to St Giles Island. Both islands have significant seabird colonies of red-billed tropicbirds and red-footed and brown boobies. Between March and June, turtle watching tours can be arranged that take guests to traditional nesting sites where the entire egg laying process can be witnessed.
Staying at Blue Waters Inn. Includes Breakfast.
Day 12
Another day at leisure with optional activities available.
Staying at Blue Waters Inn. Includes Breakfast.
Day 13
Another day at leisure with optional activities available.
Staying at Blue Waters Inn. Includes Breakfast.
Day 14
Transfer to the airport and connect with your onward international flight home.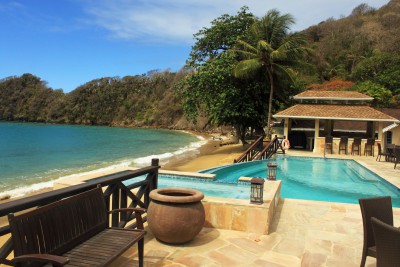 Overview
Blue Waters Inn is a small, 38-room hotel nestled in a secluded horseshoe bay in the quiet north-eastern end of the island, with a beautiful sandy beach plus 46 acres of wildlife-filled tropical gardens. The hotel benefits from friendly service and pleasant, well-kept rooms, each with air-conditioning, ceiling fans and (for most) sea views and a patio to enjoy. Rooms with extra beds and presidential suites are also available.
Blue Waters Inn offers safe swimming and excellent doorstep snorkelling and diving on reefs featuring over 70 species of coral as well as turtles, eagle rays and manta rays. There are hummingbird feeders and nature trails through the forest at the back of the property where many birds can be seen including rufous-vented chachalaca, Trinidad motmot and orange-winged parrot.
The Captain's Table restaurant serves a freshly updated menu including delicious locally caught fresh seafood as well as a selection of Caribbean and western cuisine. On certain days a BBQ with a steel drum band performance is offered.
The well-stocked bar serves a wide range of cocktails and beverages as well as snacks with wonderful sea view backdrop. Free Wi-Fi with good signal is available throughout the communal areas.
Other facilities include a games room, tennis court, infinity pool and Jacuzzi, TV and tea and coffee facilities in the lobby, dive centre, sun loungers, currency exchange and a safety deposit box.
Little Tobago, the island's largest bird sanctuary, is only a few minutes away by boat and half an hour away is St Giles Island, the southern Caribbean's largest seabird colony.
Facilities
Restaurant, bar and lounge, infinity pool, Jacuzzi, sun loungers, dive shop, gift shop, tennis court, room service, currency exchange, safety deposit box, BBQ, games room, free Wi-Fi in the communal areas and air-conditioning.
Local Wildlife
The coral reef just offshore from the beach is teeming with a large diversity of reef fish including jacks, groupers, kingfish, angelfish, moray and spotted eels, octopus, cuttlefish and the endangered hawksbill turtle.
In deeper waters, eagle and manta rays, sharks, jacks and other large fish can be seen. Night dives can also be arranged which provide a completely different underwater experience and give a chance to encounter eels, lobsters and sharks. For those who prefer to stay dry, glass bottom boat tours are also available.
The forest around Blue Water Inn is a good spot to see the beautiful ruby topaz hummingbird, Trinidad motmot and range-restricted rufous-vented chachalaca. The nearby island of Little Tobago has a large colony of nesting seabirds with magnificent frigatebird, red-billed tropicbird, brown noddy, sooty tern and red and brown-footed boobies all easily seen depending on the season. There is also the possibility of seeing the rare Audubon's shearwater and roosting white-tailed nightjar.
Optional Activities
Swimming, snorkelling and diving and excursions to Little Tobago and St Giles Island. Longer excursions to the main ridge forest reserve (Tobago's largest area of rainforest), Charlottesville and turtle nesting beaches are also possible.
This tour has no set departure date and can be tailored to suit your travel requirements. Contact us for more details.
Are International Flights Included?
No. Please contact us for a quote if required.
Flight Info:
Flight Info Caribbean Airlines flies 3 times a week from London Gatwick to Port of Spain, Trinidad with onward connections to Georgetown, Guyana.
Best Visited:
January to January
Are you ATOL Registered?
Yes. This means we are legally able to book your international flights in conjunction with your ground arrangements so you can book with us with complete confidence. Read more about our ATOL license here.
Ian Loyd
Area Specialist
Upgrade accommodation at Blue Waters Inn to a private bungalow.
If you have any questions regarding this Tour, please feel free to contact me on +44 (0)1803 866965
We really enjoyed this tour – every location was thoroughly enjoyable for different reasons. [WILDLIFE HIGHLIGHTS] River otters at Karanambu (wild and tame); macaws from the top of Turtle Mountain at Iwokrama (nice to look down on them for a change!); St Giles Island, Tobago – literally thousands of birds, frigate, boobies, tropic etc; cock-of-the-rock and golden frog at Kaieteur Falls. We have now taken 5 trips with Reef & Rainforest – all great!