15 Days from £4579
per adult. Prices based on rates applicable at the time of costing which may vary. Please ask for a definitive quote
Our popular small group tour offers the perfect introduction to Guyana, one of the most exciting, unique and least visited nations in South America.
English-speaking and little known, Guyana consists almost entirely of primary rainforest complemented by vast savannahs in the south, all home to a staggering array of fauna and flora. Guyana is known for its wildlife giants, the largest of their kind anywhere. These include giant river otter; giant anteater; capybara, the world's largest rodent; the largest caiman, the black caiman; the largest freshwater fish, the arapaima; largest freshwater turtle, the giant river turtle; largest snake (anaconda) and pit viper (bushmaster), as well as two of South America's most magnificent carnivores, jaguar and harpy eagle. However, many of these species are very rare and hard to see, especially in the dense forests.
Botanical giants include the Victoria amazonica ,the world's largest water lily, and tank bromeliad, the world's largest bromeliad. Geological highlights include Kaieteur Falls, five times the height of Niagara and the world's highest single-drop waterfall. It's a spectacular natural feature which creates a unique, localised cloud forest micro-climate.
The forests and savannahs of Guyana possess incredibly rich biodiversity. The rainforest fauna include spider and squirrel monkeys, five species of macaw, the bizarre Guianan cock-of-the rock, caiman, tree boa, colourful poison dart frogs and bizarre insects of all shapes and sizes: all regular encounters on this tour.
With a little more luck, giant anteaters and giant otters can also be seen and harpy eagles count among the 814 bird species to search for. This journey through Guyana is a real adventure with remote lodge stays, exotic wildlife and friendly Amerindian tribes still living naturally. The vast expanses of untouched rainforest, fascinating wildlife and cultures, and the impressive yet largely unknown Kaieteur Falls will ensure that Guyana will leave a lasting impression.
With a number of set departures throughout the year and a minimum group size of two, this tour is almost sure to run and perfect for those looking for flexibility in dates of travel combined with the camaraderie and cost savings of travelling in a group led by experienced, local naturalist guides.
Price from £4579
per adult. Based on sharing double / twin rooms. 2021 prices to be confirmed.
Day 1
Arrive Georgetown, Guyana. Met on arrival at the airport and transfer to the hotel.
Staying at Cara Lodge. Includes In-flight Meals.
Day 2
Today we transfer to the Eugene F Correia airport to take a scenic flight to the impressive Kaieteur Falls.

With a drop of 741 feet the falls are five times the height of Niagara and benefit from few visitors. Many regard the falls as the most spectacular in the world. The falls have even produced a special microclimate that has resulted in a cloud forest ecosystem supporting the massive tank bromeliad and its charming resident, the endemic Kaieteur golden rocket frog. Return flight back to Georgetown.
Staying at Cara Lodge. Includes Breakfast and Lunch.
Day 3
Iwokrama Rainforest Reserve
Early transfer to the Eugene F Correia International airport and take flight over miles of rainforest to the Fair View Airstrip. On arrival we will transfer by 4x4 or a Bedford truck to the Iwokrama River Lodge.

In the late afternoon, we will begin exploring the trails around the lodge with one of the local rangers and enjoy a night river trip to spot caiman and other nocturnal wildlife. Eight species of primate occur here and there are possibilities to see a wide range of birds including the bizarre capuchinbird at its lek (display ground), and other fauna.
Staying at Iwokrama River Lodge. Includes All Meals.
Day 4
Iwokrama Rainforest Reserve
Early morning excursion by boat along the river to spot wildlife. Later hike to the summit of Turtle Mountain where there are sensational views over the pristine rainforest as far as the eye can see. Black spider and red howler monkeys, the rare orange breasted falcon and various macaws are frequently seen from here. After a picnic lunch on the mountain, return to the lodge and visit Kurupukari Falls to see the Amerindian petroglyphs, and then continue by boat to Michelle Island.
Staying at Iwokrama River Lodge. Includes All Meals.
Day 5
Today we will start with an early morning walk in the forest to spot primates and birds. After breakfast we will then transfer along a forest road (looking for wildlife along the way) to the Iwokrama Canopy Walkway. We will then enjoy spending the afternoon looking for wildlife from the platforms. We can stay up on the walkway until dusk to watch the sunset and hopefully see the rare white-winged potoo after dark.
Staying at Atta Rainforest Lodge. Includes All Meals.
Day 6
Today we have a full day to explore the rainforest from the lodge trails and also make early and late visit to the Canopy Walkway. We can walk many trails, some of which have the tree species described and there are many birds to look for here.

The crimson fruitcrow, black curassow, pompadour cotinga, blue-cheeked and dusky parrots and green aracari are among the highlight birds. Red howler and Guianan brown bearded saki monkeys are sometimes spotted in the canopy.
Staying at Atta Rainforest Lodge. Includes All Meals.
Day 7
After a final visit to the canopy walkway, we will then visit a nearby Guianan cock-of-the-rock lek, one of the country's most beautiful birds. Later we transfer to the Amerindian village of Surama, set in a patch of savannah and surrounded by forest. There will be a warm welcome from the community and a tour of the village and perhaps a visit to the school. In the afternoon we will take an excursion with the local guides in search of forest wildlife followed by a night walk for nocturnal species.
Staying at Surama Eco Lodge. Includes All Meals.
Day 8
Today we can explore the rainforest that surrounds the village of Surama. Perhaps rise before dawn for a walk across the savannah and then a challenging walk up to the summit oif Surama Mountain to watch the sun rise and see birdlife. Easier walks are also available.

After lunch back at the village, we can walk to the Burro Burro River and take canoes to search for wildlife from the river. Possible sightings include red-faced spider monkeys and scarlet macaws.
Staying at Surama Eco Lodge. Includes All Meals.
Day 9
Today we can take a final forest walk or enjoy some time to relax around the village before we leave Surama after breakfast and travel by 4x4 or Bedford Truck to Rock View Lodge.
The lodge is a working ranch with comfortable accommodation and is surrounded by open savannah.

In the afternoon we can see how cashews nuts are roasted and also how some local handicrafts are made and maybe even try our hands at them too.
Staying at Rock View Lodge. Includes All Meals.
Day 10
This morning we will explore the forested foothills of the Pakaraima Mountains. The nearby Panorama Trail takes us up a small hill, where there is a chance of seeing the striking black-and-yellow poison dart (or bumblebee) frog.

Later we will transfer south to Ginep Landing for a scenic boat trip on the Rupununi River to Karanambu.

After settling in at the lodge, we will set out in afternoon to travel by boat to look for wildlife which may include squirrel and capuchin monkeys, black caiman and if very lucky giant otters. As dusk begins to fall we will reach the ponds to see the giant Victoria Regis water lily, bloom at sunset. On the return trip back to the lodge we will spotlight for black caiman, Amazon tree boas and sleeping green iguanas among other creatures of the night.
Staying at Karanambu Lodge. Includes All Meals.
Day 11
This morning we will make an early start to reach an area of rolling savannah, home to a population of giant anteaters. With luck we hope to locate one of these six-foot long animals excavating its breakfast from one of the red termite mounds that stud the savannah.

We will then spend the rest of the morning looking for wildlife around the environs of the lodge. There is a wide range of habitats around the lodge and fantastic birdwatching.

In the afternoon and evening we can explore more of the savannah for birds such as double-striped thick knee and several of species of nightjar.
Staying at Karanambu Lodge. Includes All Meals.
Day 12
In the early morning we will perhaps travel out on to the savannah again to search for giant anteaters again or explore the gallery forest along the river for primates. After breakfast we will make our transfer out by boat, bird watching along the way, to the Amerindian village of Yupukari and Caiman House.

This journey offers chances to see Guianan squirrel red howler and capuchin monkeys in the riverside trees as well as many different birds such as jabiru storks and if lucky the stunning agami heron. We will arrive at our lodge, Caiman House in time for lunch and some time to rest during the heat of the day.

In the evening we can enjoy a nocturnal excursion on the Rupununi River, where (depending on local conditions) we have the unique opportunity to support and participate in an ongoing study of the black caiman.
Staying at Caiman House. Includes All Meals.
Day 13
This morning we will transfer to Lethem airstrip and take our scheduled flight back to Georgetown. On arrival we can enjoy a tour of the city to appreciate the colonial architecture and learn about its history.

In the evening we have memorable and tasty farewell dinner at the wonderful Backyard Café.
Staying at Cara Lodge. Includes Breakfast and Dinner.
Day 14
Today after breakfast we will transfer to the Georgetown International Airport to check in for your onward flight.
Download the full details of this itinerary and start planning your trip today.
Download File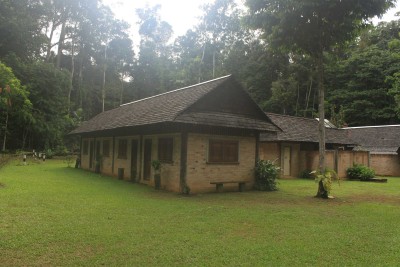 Overview
Atta Rainforest Lodge has 8 simple en suite rooms set within a clearing in the wildlife rich Iwokrama forest and close to the base of the impressive Iwokrama Canopy Walkway. The lodge was built to provide guests with a base from which to access the canopy walkway at dawn and dusk when birds and other wildlife are most active. The setting for Atta Lodge is perfect for keen birders and naturalists as it is completely surrounded by dense rainforest bursting with biodiversity and frequently visited by red brocket deer, red-rumped agouti and the black curassow (a Guiana Shield endemic).
The Iwokrama Canopy Walkway is a series of suspension bridges and decks up to 30 metres in height and 154 metres in length that pass through an excellent stretch of rainforest. It provides a memorable view of the mid and canopy levels of the forest and affords excellent bird and wildlife viewing. Many canopy level specialist birds, including several Guianan Shield endemics, are commonly seen from the walkway, with the magnificent harpy eagle now being seen more regularly.
The main building houses the restaurant as well as a small bar and gift shop, lounge and collection of natural history books: there is some limited wireless internet access too.
The meals at Atta Lodge are particularly varied and tasty, always freshly prepared using local produce. Vegetarian and special diets can be catered for and one can visit the kitchen to see how the meals are prepared. The meals are usually buffet style and served under candlelight, creating a warm and cosy atmosphere. Power is provided by a generator that can be a little noisy. Note: the power is switched off between 10pm and 6am. The lodge has a sightings board and has deployed camera traps to record the exciting wildlife found close to the lodge.
Facilities
The rooms have mosquito nets, torch, insect repellent, electricity (6am -10pm), private bathrooms (cold water showers), dining room, lounge with a small bar and library, sighting board and limited free Wi-Fi in the main building.
Local Wildlife
Birds regularly seen from the canopy walkway and surrounding trails include crimson and purple-necked fruit crow, pompadour cotinga, green aracari, Guianan toucanet, painted parakeet, red-and-green macaw, white-winged potoo and (with luck) the awesome harpy eagle. Mammals are more rarely observed but red howler, brown and weeping capuchin and even white-faced saki monkey can sometimes be seen. A staggering diversity of reptiles, amphibians, and butterflies are observable from the walkways and trails. The trans-national road to the lodge is one of the best places for sightings of jaguars and ocelots in Guyana. Some of the notable tree species include the bullet wood tree, greenheart and waramadan (which is endemic to this forest).
Optional Activities
Excursions along the canopy walkways, walking the trails through the forest and off-site excursions to see the lek of the Guianan cock-of-the-rock. By special request, nocturnal drives or walks along the main road can be arranged.
Are International Flights Included?
No. Please contact us for a quote if required.
Flight Info:
International flights are not included in the above tour cost. Please contact us for international flight prices and potential overnights en route.
Best Visited:
February to November
Are you ATOL Registered?
Yes. This means we are legally able to book your international flights in conjunction with your ground arrangements so you can book with us with complete confidence. Read more about our ATOL license here.
Ian Loyd
Area Specialist
This tour can also be taken on a Tailor-Made basis and extensions are available to other lodges in Guyana such as Rewa Eco Lodge or to Trinidad and Tobago or the Kabalebo Nature Resort in Suriname. Please ask us for details.
If you have any questions regarding this Tour, please feel free to contact me on +44 (0)1803 866965
WILDLIFE: EXCELLENT Giant anteater swimming across the river. Number of bird species in Trinidad and the tarantula! The otters of course! And a baby anteater which unfortunately died. At least 4 species of monkey. Amazonian water lilies. Bat hanging from shower head! Golden frog in bromeliad. Cane toad, boa constrictor, jaguar tracks in sand.
GENERAL COMMENTS: We saw an extremely varied range of landscapes, plants, animals. We met a lot of very friendly and very interesting people. We have travelled extensively and this was one of the best trips we have ever had. Guyana was special as it is one of the most unspoilt wildernesses we ever visited. We never reached the stage where we felt ready to return home and have found it very difficult to adjust to our normal lives. Apart from in the hotels, the food was excellent – a good range, well cooked using local ingredients imaginatively! We appreciated Delice's visits to the hotel at both ends of the Guyana visit. The Asa Wright Lodge was extremely well run, with outstanding attention to detail. Keep finding people like the McTurks for us to visit!