The Wilds of Peru Off the Beaten Track
14 Days from £5915
per adult.
Sign up for this tailor-made tour if you want to avoid the crowds yet still see some extra special Peruvian wildlife. Sightings of the rare spectacled bear – on which Michael Bond's beloved Paddington was based – are common when you visit Chaparri Ecolodge in the dry forests of northern Peru.
Combine it with the mysterious Inca citadel of Machu Picchu and sightings of the bizarre Andean cock-of-the-rock, huge giant otters, multifarious primates and abundant birdlife of the Manu rainforest to create an exciting tour that is as irresistible as a jar of home-made marmalade.
Price from £5915
per adult. Based on sharing double / twin rooms
Day 1
Early morning arrival in Lima and connect with flight to Cusco. Met on arrival and transfer to hotel.
Staying at Casa Andina Classic Cusco Plaza Hotel. Includes No Meals.
Day 2
Day trip to Machu Picchu. The famous lost city of the Incas is one of the most evocative places in Peru. Your guide will tell you the story of the rise and fall of the ancient civilizations of the Andes, the tragic end of the Incas, and the unresolved mystery that the lost city poses.
Staying at Casa Andina Classic Cusco Plaza Hotel. Includes Breakfast.
Day 3
Transfer overland from Cusco to the cloud forests of the eastern Andean slopes. Passing Quechua communities and breathtaking snowcapped peaks, you leave the high altitudes of Cusco and enter the moist, orchid-rich cloud forests of Manu. A walk around the lodge in the afternoon will offer chances to see some of the diverse birdlife of the region.
Staying at Cock of the Rock Lodge. Includes All Meals.
Day 4
Dawn excursion to an Andean cock-of-the-rock display ground (lek). Then transfer by road to Atalaya and board a boat on the Alto Madre de Dios River. After arriving at the Manu Learning Centre there will be time for an afternoon walk through the rich forest to look for wildlife.
Staying at Manu Learning Centre. Includes All Meals.
Day 5
Macaw Clay Lick, Manu Lowlands
Morning visit to the macaw clay lick to watch several large species of macaw and parrot (including the lovely, endangered blue-headed macaw) coming to ingest clays on the riverbank. Transfer later in the day by boat to the lowland Manu forests. The trip will offer chances to see a variety of wildlife on the banks of the river and the exposed beaches.
Staying at Manu Learning Centre. Includes All Meals.
Day 6
Cocha Salvador, Manu Lowlands
Hike the trail to Cocha Limonal oxbow lake which is particularly good for sightings of black spider monkeys. After lunch, transfer by boat up the Manu River to a tented camp, spotting wildlife en route. Nesting birds and feeding herons, egrets, black skimmers and terns about on the exposed beaches, and jaguar sightings along the Manu River have been increasing over the last few years.
Staying at Manu Tented Camp. Includes All Meals.
Day 7
Cocha Salvador, Manu Lowlands
Explore Cocha Salvador and Cocha Otorongo oxbow lakes looking for wildlife such as large families of giant otters, dazzling agami herons and a number of primate species including the black spider monkey.
Staying at Manu Tented Camp. Includes All Meals.
Day 8
Travel downstream to the Manu Wildlife Centre on the banks of the Madre de Dios River. Although not officially within Manu National Park, this region is incredibly rich in biodiversity with good chances to see some 12 species of primate as well as a bird list of close to 600 species. Arrive in time for lunch and an afternoon excursion to begin exploring one of the numerous rainforest trails, or perhaps climb the canopy tower.
Staying at Manu Wildlife Centre. Includes Breakfast.
Day 9
A full day to explore the surrounding pristine rainforest. This includes a visit to the Blanquillo macaw clay lick which is visited by red and green macaws as well as many of the smaller parrots; an oxbow lake where giant otters, hoatzins, macaws and caiman can be seen; and rainforest hikes where more fauna will be revealed. Look out for the moustachioed emperor tamarin, Goeldi's monkeys and monk saki. In the evening, hike deep into the rainforest to the world's largest known clay lick to watch South America's largest land mammal from the comfort of a hide.
Staying at Manu Wildlife Centre. Includes All Meals.
Day 10
Another day to explore the many trails surrounding the lodge.
Staying at Manu Wildlife Centre. Includes All Meals.
Day 11
Transfer by boat and road to Puerto Maldonado and fly in the late afternoon to Lima. Connect with flight to Chiclayo. Met on arrival and transfer to hotel.
Staying at Casa Andina Select. Includes Breakfast.
Day 12
Transfer to Chaparri. Guided excursions within the private reserve. The habitat here is Tumbesian dry forest and it supports a distinct community of flora and fauna including a remarkable 50 endemic bird species. There is a rescue centre for spectacled bears here, and frequent sightings of wild bears are also made. See sechuran foxes and collared peccaries, and visit a natural pool where hummingbirds bathe at close range in the mornings, giving wonderful photo opportunities.
Staying at Chaparri Ecolodge. Includes All Meals.
Day 13
A full day of guided exploration of the trails to enjoy the wildlife, landscapes and tranquility of this interesting and unique Tumbesian environment.
Staying at Chaparri Ecolodge. Includes All Meals.
Day 14
Transfer to Chiclayo and fly to Lima. Connect with your international flight home.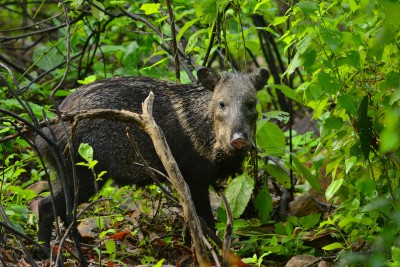 Overview
Chaparri Ecolodge is located in the 36,412-hectare Chaparri Private Conservation Area in the dry forests of northern Peru, about 45 miles from the city of Chiclayo.
Chaparri Conservation Area was established in 2000 by the local community of Santa Catalina de Chongoyape to protect their natural resources and provide a sustainable source of income.
The reserve supports 214 bird species, 21 mammals and 20 reptiles and amphibians with excellent wildlife viewing opportunities for spotting wild spectacled bears. The list of wildlife further includes sechuran fox, pampas cat, king vulture, 50 Tumbesian endemic bird species and, though harder to see, Andean condor, guanaco and very occasional sightings of puma.
Guests can explore a system of three main trails varying in length from 800 metres to five miles accompanied by a local guide; other trails are available for keen walkers. The trails pass through a variety of habitats providing excellent wildlife and birding opportunities.
The Spectacled Bear Rescue Centre is located close to the lodge and houses bears rescued from illegal captivity in large, semi-wild enclosures. The centre also receives other rescued animals which in the past have included ocelot, Andean condor, king vulture and military macaw.
Guests can also visit a herpetarium containing several species of snakes from the area, built to educate the local population about snakes and the importance of their conservation.
Facilities
Open air dining room, communal area with hammocks for relaxing, and a natural swimming pool.

Local Wildlife
Chaparri is the best place in Peru to track wild spectacled bears and September is the best month for sightings. Sechuran foxes are regular visitors to the lodge at night, and Peruvian white-tailed deer, collared peccaries and Guayaquil squirrels are often seen on the trails. There is also a chance of pampas cat and northern tamandua, and the endemic ortoni boa constrictor is often seen too. Dozens of hummingbirds bathe in the stream most mornings, and king vultures and 50 Tumbesian endemic bird species can be spotted.
Optional Activities
Day treks along trails through the reserve, visits to the wildlife rehabilitation centre.
This tour has no set departure date and can be tailored to suit your travel requirements. Contact us for more details.
Are International Flights Included?
No. Please contact us for a quote if required.
Flight Info:
Fly from London to Lima on Iberia via Madrid, Air France via Paris, or KLM via Amsterdam. Flights are also available via the USA.
Best Visited:
January to January
Are you ATOL Registered?
Yes. This means we are legally able to book your international flights in conjunction with your ground arrangements so you can book with us with complete confidence. Read more about our ATOL license here.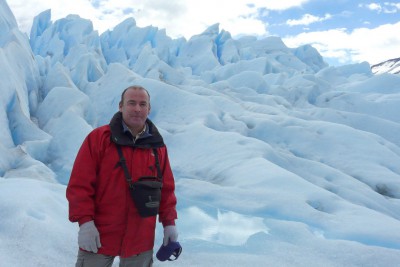 John Melton
Area Specialist
Visit Chaparri during September for the best chances to watch wild spectacled bears feeding in the fruiting trees.
If you have any questions regarding this Tour, please feel free to contact me on +44 (0)1803 866965
Here is some feedback on our holiday to Peru…We were very impressed by your overseas agents – the transfers were on time, not too early and were smooth and professionally undertaken. The hotels in Lima and Cusco were excellent and well placed for the various attractions. The guides on the tours here were knowledgeable and with a pleasant manner…Thanks for an enjoyable holiday.