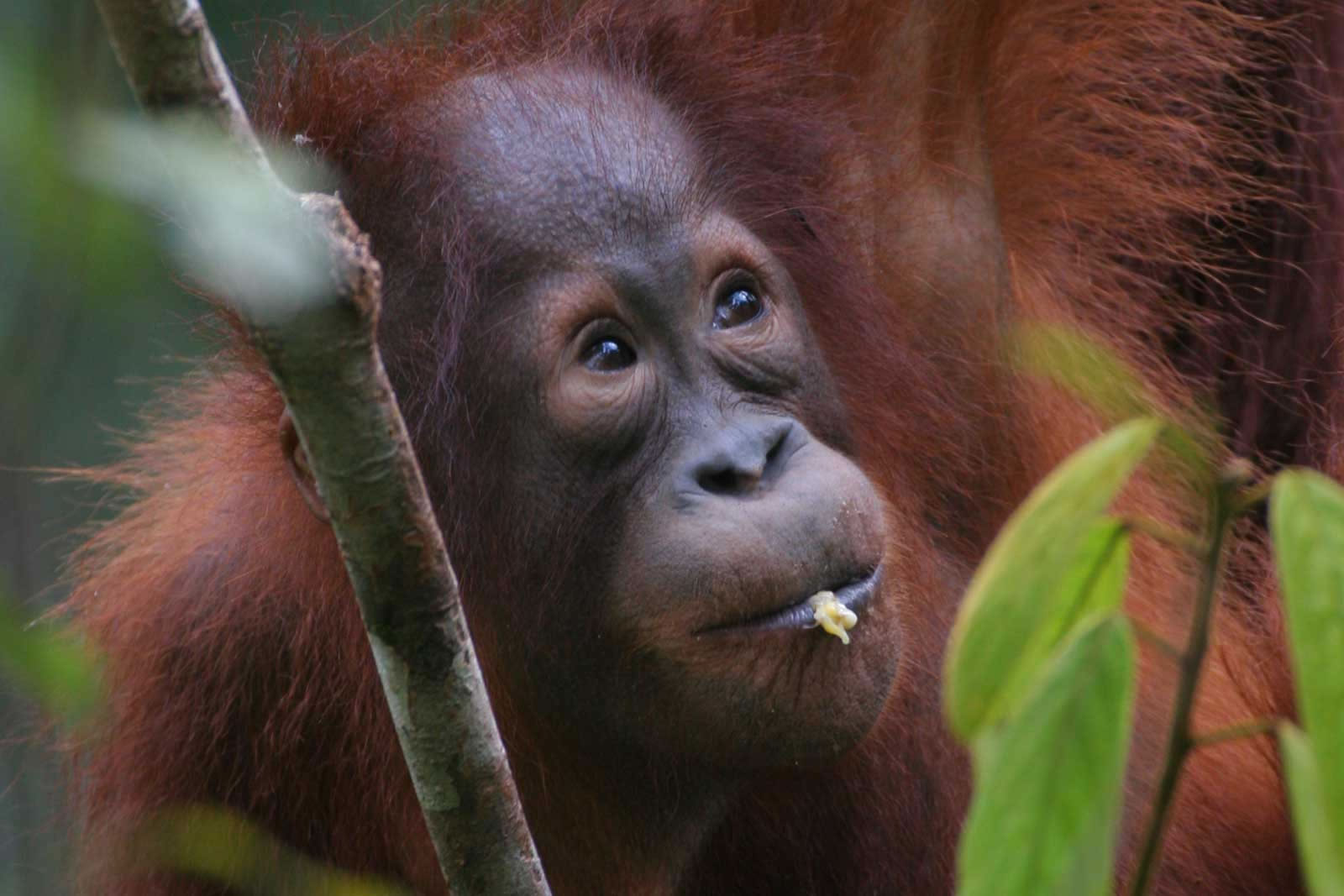 The Best of Indonesia's Wildlife
14 Days from £3680
per adult.
This comprehensive natural history trip has been designed to showcase the best of South East Asia's iconic wildlife in a logistical and unhurried manner. We begin with Tanjung Puting National Park in Indonesian Borneo, home to highest population of wild orang-utans in the world, plus proboscis monkeys, langurs, bearded pigs, crocodiles and much more. Moving to southern Sumatra, you will likely see Sunda slow loris, siamang gibbon, elephant, deer, many birds, reptiles and, with luck, some rare mammal species in little-visited Way Kambas National Park. Crossing over the Wallace Line to northern Sulawesi, visit Tangkoko National Park for its characterful Sulawesi crested macaques, spectral tarsiers and excellent coral snorkelling. Finally venture to the remote Komodo and Rinca Islands, where the legendary komodo dragon has its last redoubt. We believe you won't be able to find a better wildlife itinerary for Indonesia than this one.
Price from £3680
per adult. Based on sharing double / twin rooms
Day 1
Arrive in Jakarta and connect with a flight to Pangkalan Bun, your entry point to Indonesian Borneo (Kalimantan). Transfer to Kumai jetty to board your houseboat. The houseboat, or klotok, is a traditional wooden river boat about 6m by 2m with a roof forming the upper deck from where one can survey the lush rainforest. Travel upstream into Tanjung Puting National Park spotting proboscis monkeys, long-tailed macaques and saltwater crocodiles along the way.
Staying at Rimba Ecolodge. Includes Dinner.
Day 2
Tanjung Puting National Park
After breakfast, board your boat and travel to Pondok Tanggui to see the morning feeding of the rehabilitating orang-utans. Continue upstream (around two hours) to the famous Camp Leakey. Camp Leakey was set up in 1971 by Louis Leakey to support research into orang-utans and, over the years, scientists there have habituated and studied hundreds of orang-utans. You will have a little time to walk round the visitor centre before seeing the 3pm feeding of the orang-utans (agile gibbons and bearded pigs are also often seen). This is usually the busiest of the feeding stations (both in terms of tourists and orang-utans) and normally a large number of orang-utans can be seen, including many young apes plus the occasional large male. Return to your boat and motor to a quiet part of the river where you will moor up for the night. Enjoy dinner on board and then settle down to sleep under mosquito nets on the deck of the boat.
Staying at Klotok houseboat. Includes All Meals.
Day 3
Tanjung Puting National Park
Wake up to the sounds of the forest and enjoy a cooked breakfast on the boat. Return to Camp Leaky and begin a trek through the rainforest with your private naturalist guide, hopefully to encounter some of the wild forest inhabitants. Enjoy a picnic lunch in the rainforest and then return to your boat. Head back downstream to your lodge for a well-earned hot shower and delicious Indonesian dinner.
Staying at Rimba Ecolodge. Includes All Meals.
Day 4
Depart before dawn and cruise downriver, watching the forest wake up around you and enjoying your breakfast served on board. Continue to Pangkalan Bun and take flight to Jakarta. Connect with onward flight to Lampung. Transfer to Way Kambas National Park. Evening walk in search of the Sunda slow loris, nightjars, frogmouths and owls.

Located on the southern tip of the large island of Sumatra, Way Kambas National Park is one of the last strongholds of the Sumatran elephant, Sumatran tiger and Sumatran rhinoceros, the latter two being particularly rare and difficult to see. Enjoy a full day to explore the park through a combination of walking, boat trips and game drives. Large mammals often seen include sambar deer, red muntjac, wild boar, siamang gibbons and silvered langur. Rarer sightings include Sumatran elephant, Malaysian tapir, sun bear and small cats.

Staying at Satwa Elephant Ecolodge. Includes Breakfast and Dinner.
Day 5
Take an early bird walk, observe the village activities or cycle with one of the park rangers to see and hear the haunting call of the siamang gibbon. Return to the lodge for a well-earned breakfast, then proceed to the Way Kambas Elephant Training Centre where you will be assigned an elephant with mahout. Ride through the forest - an unforgettable experience. Return to the lodge, en route stopping at the Butterfly Bridge where up to 50 species have been seen in an hour. After lunch and a siesta, go into the park to Way Kanan for a short river trip for primates, birds, mammals (even a sun bear) and, hopefully, wild elephant. This is a magical day with so many different experiences. Back to the lodge for dinner.
Staying at Satwa Elephant Ecolodge. Includes All Meals.
Day 6
In the morning visit Bambangan, a ranger station and reforestation project. Learn about anti-poaching patrols of the rangers, travel downstream by boat and plant a tree at the reforestation centre. Take a guided walk through the forest in search of birds and other wildlife. Enjoy another afternoon boat trip on Way Kanan to look for wildlife. If lucky, you may be allowed to visit the Sumatran Rhino Breeding Centre to learn about their work and to see some of the resident rhinos. Please note that visits to the centre cannot be guaranteed due to the sensitive nature of the breeding programme (entrance fee/donation not included). In the evening take a night walk/drive in search of nocturnal birds and mammals.
Staying at Satwa Elephant Ecolodge. Includes All Meals.
Day 7
After a leisurely breakfast, drive slowly through the park to Way Kanan Ranger station. Take a boat to Kalibiru for a fascinating walk either to a game-viewing platform or to Rawa Gajah, a swamp area where elephants are often seen, depending on water levels. Sambar deer, wild boar, binturong and the endangered white winged wood duck are seen too. The trail often reveals the scats, pugmarks and tree scratching of tigers, making the trip really exciting. After a picnic lunch, walk slowly back to the boat and return by the river boat. Possibly see some primates, different bird species, deer and elephants en route. Whatever, it is sure to be a great day's wildlife experience.
Staying at Satwa Elephant Ecolodge. Includes All Meals.
Day 8
Drive back to Lampung and take a flight to Jakarta. Connect with onward flight to Manado. Transfer by road followed by a 20-minute walk to your rustic lodge, just yards from the beach.
Staying at Pulisan Jungle Beach Resort. Includes Breakfast and Dinner.
Day 9
Morning guided excursion in Tangkoko National Park to see the endemic and highly endangered Sulawesi crested macaque (very endearing), bear cuscus, tiny spectral tarsier and endemic red-knobbed hornbill. Afternoon boat trip to Bangka and Gangga Islands for snorkelling and island exploration.
Staying at Pulisan Jungle Beach Resort. Includes All Meals.
Day 10
Free morning for snorkelling and relaxation. Afternoon visit to Tangkoko National Park en route back to Manado.
Staying at Novotel. Includes Breakfast.
Day 11
Transfer to Manado airport and fly to Makassar. Connect with flight to Denpasa. Connect with onward flight to Labuan Bajo and transfer to hotel on arrival. Located on the island of Flores, Labuan Bajo is the main departure point for Komodo and Rinca Islands, home to the infamous Komodo dragon, the main draw of the islands. Enjoy the rest of the day at leisure at the hotel.
Staying at Bajo Komodo Ecolodge. Includes Breakfast.
Day 12
This morning transfer to the harbour to board your private local boat with naturalist guide and full crew and sail to Rinca Island. Disembark on Rinca Island and enjoy a morning trek with your guide and local ranger in search of Komodo dragons and other wildlife. Perhaps enjoy some snorkelling in the afternoon, before sailing to Komodo Island. Drop anchor and watch the sun set over Komodo Island. Spend the night on board the boat (there are mattresses, mosquito nets, flushing toilet and a cold shower).
Staying at Local boat. Includes All Meals.
Day 13
After breakfast, land on Komodo and take a walk on the island with your guide and a local ranger to see more Komodo dragons and other wildlife. Komodo is more heavily forested than Rinca and has more wildlife to see: expect Timor deer and wild boar plus a wide range of bird species including yellow-crested cockatoo and white-bellied sea eagle. In the afternoon, visit the Pink Beach for some wonderful snorkelling, then return to Labuan Bajo.
Staying at Bajo Komodo Ecolodge. Includes Breakfast.
Day 14
After breakfast at the hotel, transfer to the airport and take flight to Denpasar (Bali). Fly home.
Includes In-flight Meals.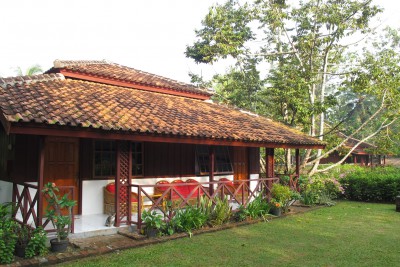 Overview
Satwa Elephant Ecolodge is a small, solar powered forest lodge conveniently located only five minutes' drive from the entrance to Way Kambas National Park, Sumatra. Accommodation is in four attractive cottages spread around lush gardens, each with two separate en suite rooms. Each room can sleep four and has a mixture of double and twin beds with a private bathroom and shower. The rooms are well screened, spacious clean and comfortable with a small veranda outside.
The restaurant serves local and western food, and there is free Wi-Fi that sometimes stretches to the nearer rooms. The lodge has a small gift shop and a few resource books as well as a sightings board.
Way Kambas is one of the oldest protected forests in Indonesia. Thankfully the park has been able to retain populations of some of the most endangered mammals in South-East Asia, including Sumatran rhino, Sumatran elephant and Sumatran tiger. Way Kambas covers 1300 square km of costal lowland and dipterocarp forest in southern Sumatra to the east of Bandar Lampung.
Facilities
All rooms are en suite with western style hot water showers and toilet, ceiling fans, mosquito screens and have a veranda. There is Wi-Fi in the restaurant which extends to some of the rooms.
Local Wildlife
The park has an exceptional diversity of mammals including Sumatran tiger, Sumatran rhino and clouded leopard – but they are seldom seen. Siamang gibbon, various macaques, silvered and mitred langurs, Sunda slow loris, wild boar, muntjack and sambar deer, lesser and greater mouse deer, Malayan and palm civets and giant squirrels are all frequently seen. With more luck Sumatran elephant, sun bear, Malaysian tapir, binturong, marbled and leopard cats, banded civets and colugo (known as flying lemur but not a true lemur) can be seen. The birdlife is equally impressive with several species of frogmouth and owl, white winged duck, green broadbills, woodpeckers and nightjars.
Optional Activities
Game drives, walking and boat trips along the Way Kanan River. Local mahouts are available for elephant safaris, plus guides for walking or cycling.
This tour has no set departure date and can be tailored to suit your travel requirements. Contact us for more details.
Are International Flights Included?
No. Please contact us for a quote if required.
Flight Info:
Domestic flights within Indonesia are included.
Best Visited:
May to October
Are you ATOL Registered?
Yes. This means we are legally able to book your international flights in conjunction with your ground arrangements so you can book with us with complete confidence. Read more about our ATOL license here.
Jonathan Morris
Area Specialist
If you have any questions regarding this Tour, please feel free to contact me on +44 (0)1803 866965
It was tiring, but we had a fantastic time and the holiday was up there with the best of them!  The boats in particular were brilliant ways to travel, and it was great that each place we visited had something different to offer.  The people were so lovely, and the food was great.  In fact, it's one of the few places that we've been to over the last few years that I really feel I'd like to revisit.