Reef and Rainforest client Diana Loyd joined our inagural Costa Rica's curiously cryptic wildlife with Entomologist Dr George McGavin in November of 2017.
In November/December 2017 I was one of a group of 12 Reef and Rainforest customers to spend two weeks touring the small central American country of Cost Rica. We were accompanied by Scottish entomologist and presenter ( and as it transpired, wit and raconteur ) Dr George McGavin and by a superb Costa Rican guide Gabriela Almengor.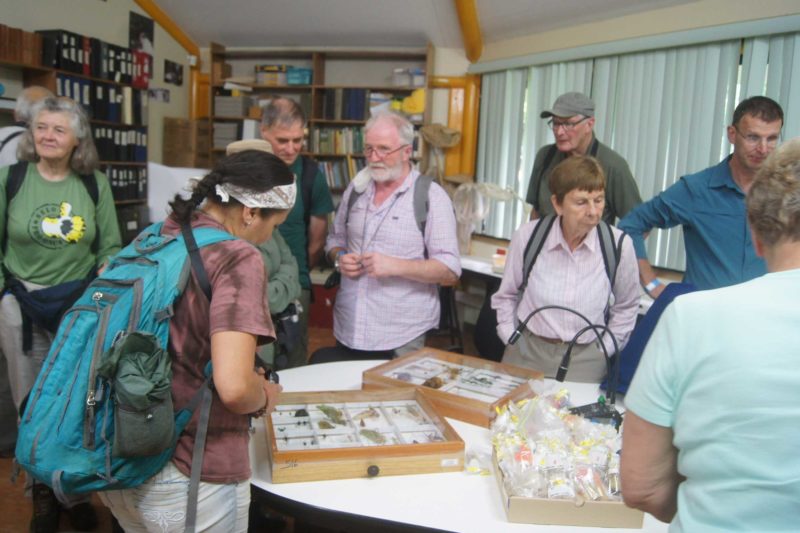 (The group at Jim's insect museum during the trip – Martin Woolner)
We toured different habitats, including coastal, agricultural, riverside and both primary and secondary tropical rainforest and stayed in 5 different lodges or hotels in a varied and well put together tour.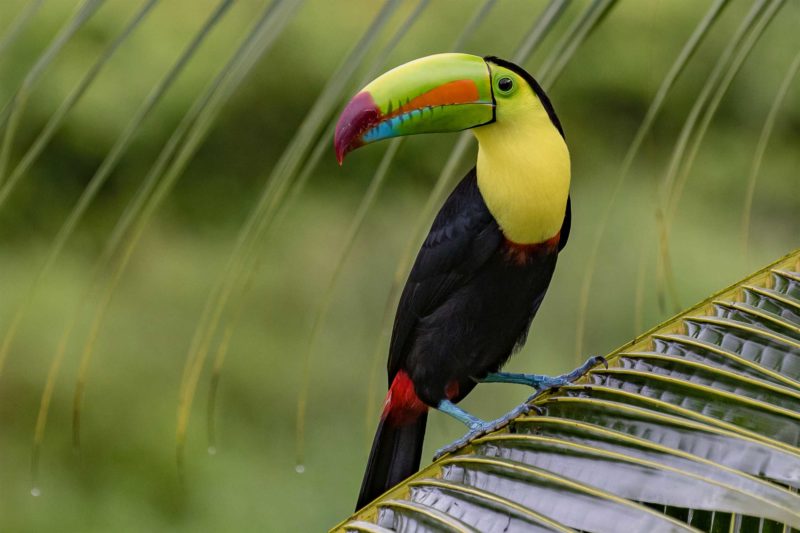 (The colourful Keel-billed toucan – Ian Woods)
I can sum up the trip in 5 main words; passion, biodiversity, colour, welcome and inspiration.
The passion came from the many dedicated and knowledgeable Costa Rican guides and researchers  we encountered, not least Gabriela herself, a lady who loves and cares  about  spiders  to a spectacular degree. She communicated her passion and deep knowledge to us very entertainingly as well as describing her country in colourful detail, singing to us and looking after our varying needs with true care and concern.
We also had a thought provoking talk from Carlos de la Rosa at La Selva Biological Station, making us think about the future of the rainforest and its medicinal potential , while at La Luna Lodge we were all very impressed by the young but remarkably mature guide Jim Corboda Alfaro. He cares deeply about Costa Rica's  biodiversity and combines guiding, research and education of his countrymen about the precious but often unnoticed flora and fauna and the need to preserve it. He has already created his own museum/specimen collection. His goal is to become Environment Minister for Costa Rica and I think we all felt that he would probably achieve this.
Costa Rica only has 5 million people, but its biodiversity is stunning. We did not of course see all of it – but just  being in the lush abundance of the rainforest gave an overwhelming sense that the teeming life is hidden in there. Our group included bug lovers, birders, mammal lovers botanists  and all rounders and I think we were all satisfied with the variety and numbers of species that we saw, heard or ( occasionally ) were stung or bitten by ….. In the dense forest by day, a lot of life is heard rather than  seen, or its presence is  sensed , but night walks with head torches  were exceptionally  productive for insect life.
The colour came from both flora and fauna. Birds, reptiles, butterflies, beetles, frogs , flowers, leaves, fungi came in spectacular range of colours – mainly against the backdrop of the deep dark rainforest green that for me is the defining colour of abundant life.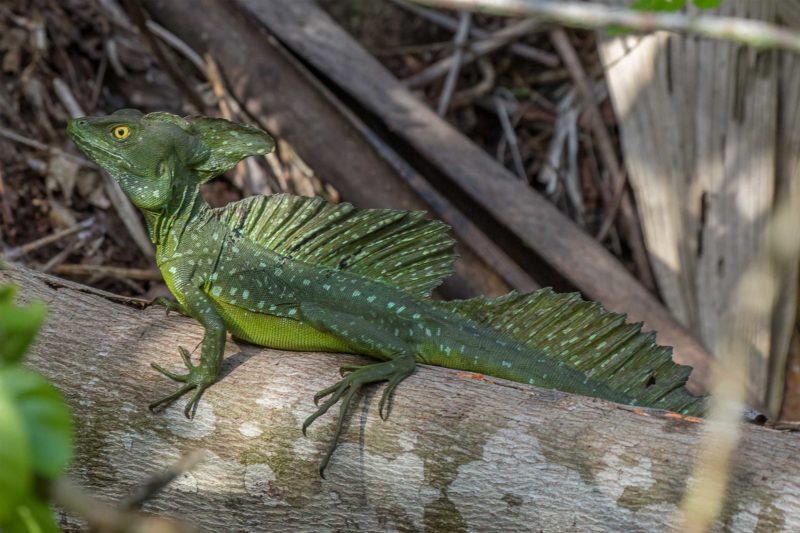 (A Basilisk also known as the Jesus Christ lizard, for their ability to run across water – Ian Woods)
(A large spider species seen on a night walk – Martin Woolner)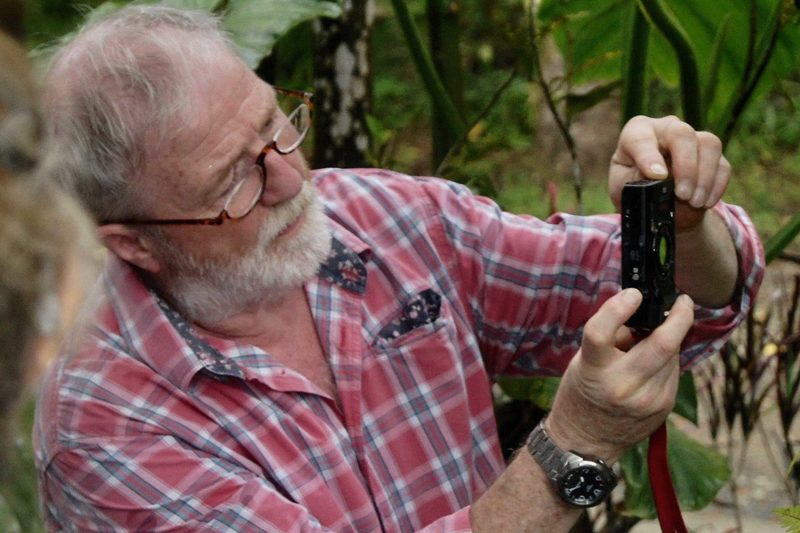 (George McGavin photographing insects with the group for identification – Martin Woolner)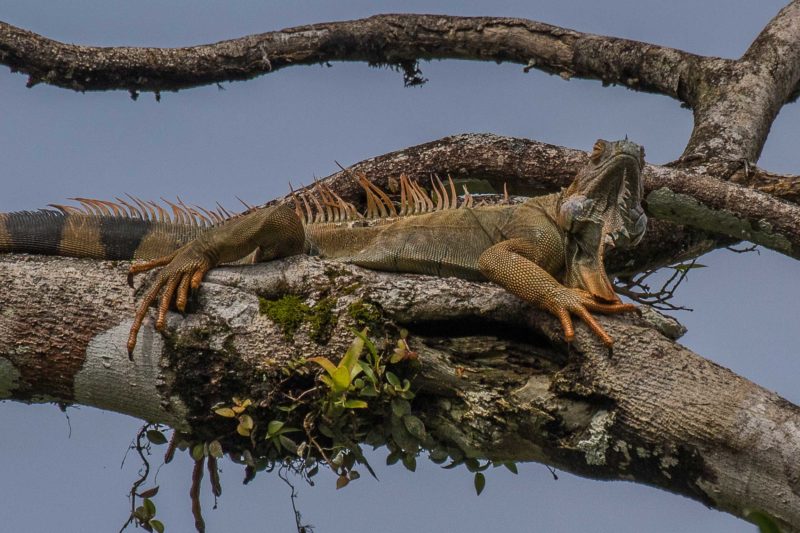 (Green iguana basking above the water – Ian Woods)
The many people we met were invariably welcoming and cheerful. The catering and cleaning staff at the lodges, the guides, our drivers, the school teachers, the staff at shops, cafes and restaurants were unwaveringly courteous and smiling – so we all felt very welcomed in Costa Rica.
The sense of inspiration came from all the above combined with the knowledge that so many people are aware of the country's bounty, and despite various threats and problems, there is a sense of hope.  As visiting tourists we are perhaps able to help preserve the rare and precious creatures while also helping to create a livelihood for local people.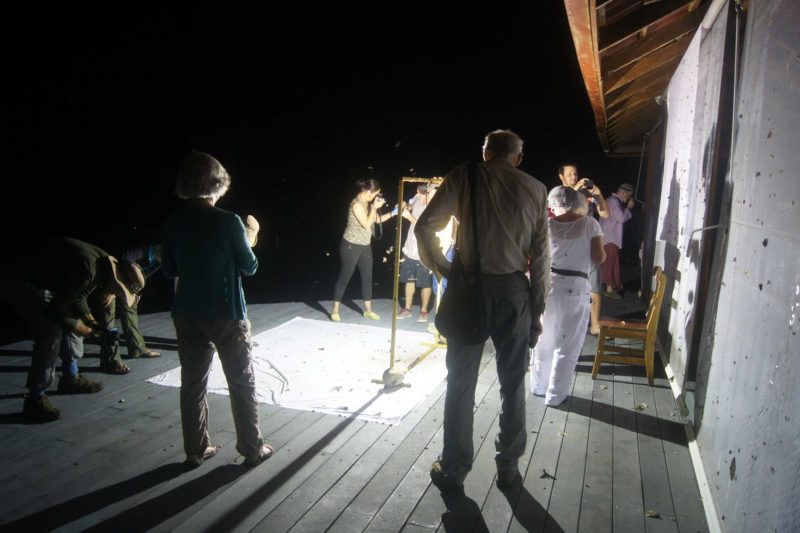 (The group enjoying all the activity from an evening's moth trapping – Martin Woolner)
(The wonderful red-kneed tarantula – Martin Woolner)
My own wildlife highlights ( and doubtless all 14 of us would give a different list ) were, the iguana hidden high up in a tree at Macquenque, the diminutive blue jeans frogs, the elephant beetle, the owl butterfly, the tamandua climbing a tree, the brown  pelicans flying above the Pacific ocean near La Luna, and the vulnerable Olive Ridley hatchlings making their determined way to the same  ocean across the black volcanic sand.
Finally George McGavin proved to be a perfect guide, presenting his astounding knowledge with great humour and charm. Catch him if you can!