"Welcome to Paradise" are the words that greet most visitors on arrival at Cristalino Lodge in Brazil's Amazon rainforest and that phrase perfectly describes the experience that this leading Eco lodge provides. From a natural history perspective, Cristalino Lodge is located in a true wildlife nirvana; it sits on the edge of the Cristalino River, near the town of Alta Floresta in the southern reaches of the mighty Amazon rainforest so benefits from some of the greatest wildlife diversity on the planet. The family-owned lodge is located in a private reserve of wonderful untouched primary rainforest adjacent to the newly-formed, 165,000 acre Cristalino State Park.
Cristalino is without a doubt one of the best locations in Brazil and all of South America to see a wide range of Amazonian flora and fauna from its extensive trail network, exciting boat trips and best of all from its two 50 meter high canopy towers which provide unforgettable views of the forest. All this whilst staying in some of the most comfortable accommodation in the whole of Amazonia. The lodge also has its own ecological foundation and field station nearby and has discovered many species new to science including a localised species of poison dart frog and several birds.
The lodge itself stands in the terra firme (land that never floods) forests of the highlands on the southern slopes of the Amazon River basin: to the north there is just a vast area (21,000 sq km) of virgin forest protected under the auspices of the Brazilian Air Force.
As a guest you can explore the many different habitat types of the reserve that include dense terra firme rainforest, ancient mountain ridges with  patches of open savannah, semi-dry deciduous forest, riparian forest, large thickets of bamboo and of course the beautiful river system.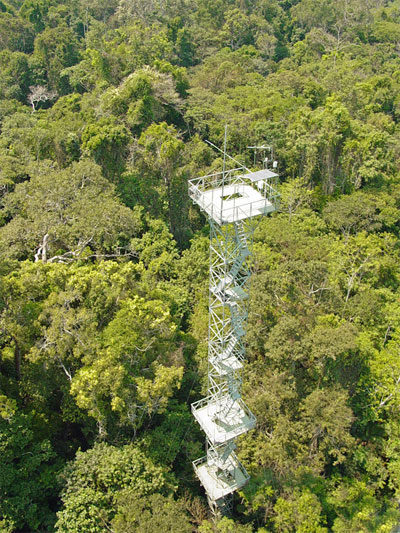 There are numerous trails suitable for all levels of walking to explore the area as well as thrilling boat trips along the river which offer some of the best wildlife viewing. One of Cristalino's most iconic features though is its two 50 meter high canopy towers, possibly the most impressive canopy towers in the whole of Latin America. From this unique vantage point above the canopy itself you can observe many more birds, primates and other species that would normally be very difficult to observe and photograph from the forest floor. The towers have also been strategically placed close to fruiting trees meaning that there is always something to be seen. The locally endemic white-whiskered spider monkey and white-nosed bearded saki monkeys both frequent the area and flocks of macaws pass gracefully over the canopy.
Whether its birds, mammals, reptiles and amphibians, butterflies, insects or plants, Cristalino can truly be described as a paradise for all natural history enthusiasts. The numbers alone are difficult enough to comprehend with over 580 species of bird in the area and around 2000 estimated species of butterflies and moths. Of course it is important to remember that actually seeing wildlife especially large mammals and birds in rainforest is much more difficult than in open habitats. However wildlife watching in this habitat really uses all of your senses and is a very special experience.
There are 5 species of primate that are regularly spotted including the locally endemic white-whiskered spider monkey and white-nosed bearded saki whiletapirs and peccaries are often spotted at the clay lick. Between July and October tapirs and capybara also spend more time along the river banks, where neotropical and giant river otters, paca, tayras and even cats including black jaguars are occasionally spotted too.
For avid birdwatchers it is quite likely that within a few days at Cristalino you could see anything from 150 – 200 species of bird. Highlights include up to 6 species of macaw, razor-billed curassow, sunbittern, zigzag heron, red-headed, snow-capped, fiery-capped, and flame-crowned manakins, several species of anthrush, localised species of parrot, puffbirds, stunning spangled, purple-throated and pompadour cotingas, colourful tanagers, toucans and trogons and birds of prey which if lucky could include harpy or crested eagle.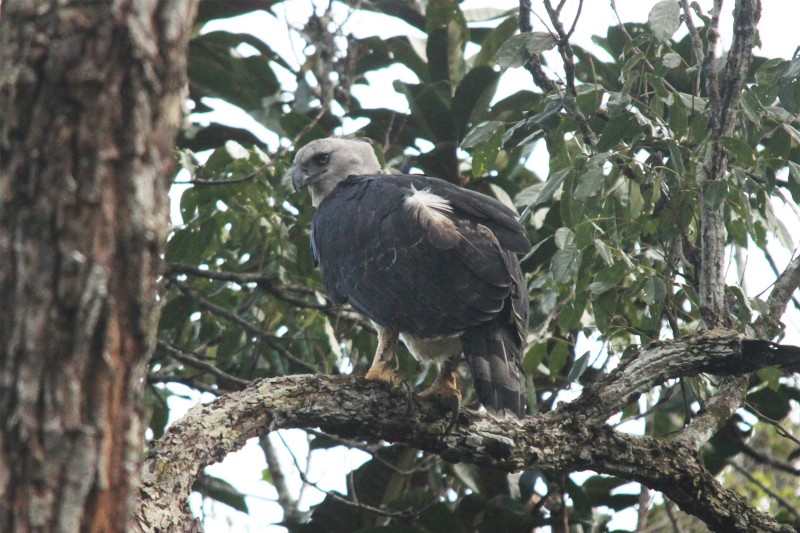 The smaller creatures are equally exciting with an exceptional diversity of butterflies, reptiles and amphibians better enjoyed with the help and enthusiasm of the excellent guides.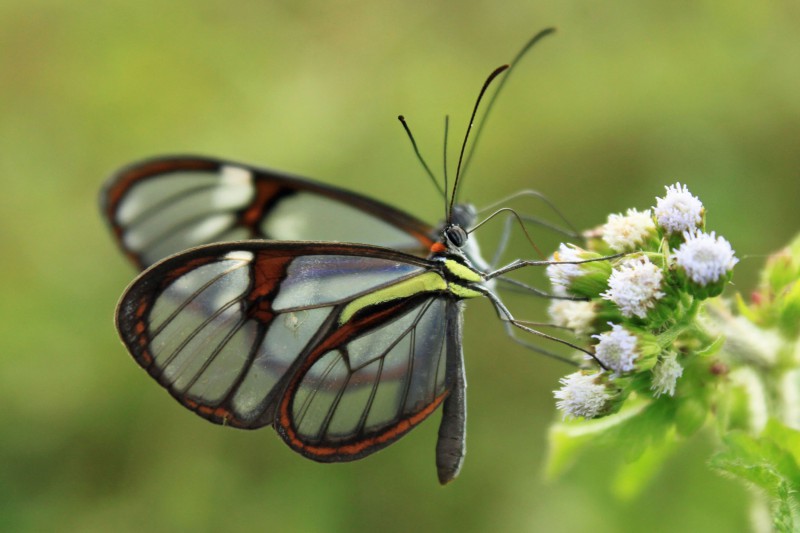 The lodge facilities are arranged in two clearings, with the dining room, bar and lounge in one and the standard/superior rooms and VIP bungalows in the other. The standard rooms are situated in two blocks of four rooms and only have twin beds, while the superior rooms are found in two blocks of two. The four individual VIP bungalows (including one with an outside bathtub) are located on the edge of the clearing. All rooms are en suite with solar heated showers and ceiling fans. The VIP bungalows are the most spacious, and offer queen-size or twin beds, sofas and private verandahs with hammocks.
The location of Cristalino in the far south of the mighty Amazon rainforest also makes it a much drier rainforest than the areas found further north along the great River itself. This makes it an ideal location for those wanting to experience a pristine part of the Amazon without the risk of frequent downpours. The lodge is easily accessed by a 2 hour flight from Cuiaba to the town of Alta Floresta, followed by an hour's drive and a 20 minute boat ride. This makes it the perfect destination for combining a comfortable Amazonian experience with the plethora of more wildlife conspicuous wildlife in the Pantanal.
Visit Cristalino Lodge as part of our Natural History Highlights of Brazil tour.