The tiger is surely one of the planet's most charismatic animals and the feeling that comes with seeing your first one silently padding its way through a forest or meadow in its natural habitat will never be forgotten. Although there are many countries in Asia still with tigers, India is by far the best country to see one.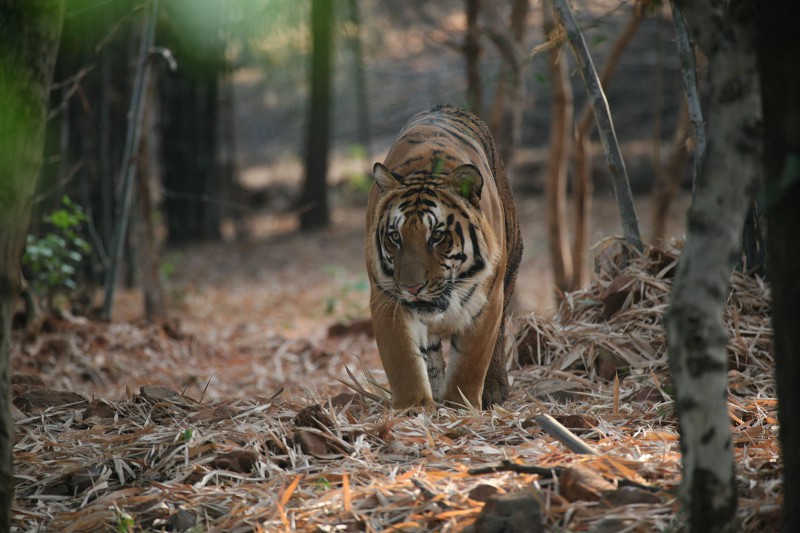 In recent years India's tiger population has also gradually increased (estimated to be around 2,500 in 2016) thanks to a combined effort to safeguard and connect the populations in many of its key project tiger reserves scattered throughout the country.
There have also been some changes to the way safaris in many popular Indian National Parks can be taken in recent years too. These changes have been brought in to try and reduce the numbers and combat the overcrowding and stress to the animals in the busier parks. Some of the changes include reducing the number of safari permits being allocated per day in order to manage jeep numbers. Also there has been the introduction of a route system for safaris in the busiest National parks to avoid crowding around sightings. This has made for a better experience for both visitors and wildlife, though some parks still remain busy.
Besides choosing the best location to visit for your tiger watching holiday, it is also important to consider the time of year when planning.
The very best time for sightings in central India is from January to May (peak is April and May) when sightings improve as the cats spend more time in and around waterholes and their movements become more predictable. However temperatures soar from March and can sometimes reach 45 degrees Celsius by May, which although can be uncomfortable offers outstanding viewing chances. Below is a list of the top parks to visit, in order of current sightings.
Bandhavgarh National Park
Although not the easiest park to reach Bandhavgarh still remains one, if not the best locations to see tigers in India with almost daily sightings possible in the core block of the park due to the high density of both prey and tigers. This attractive undulating park is mostly dominated by sal forest with dense stands of bamboo. It also contains a dramatic area of rocky limestone hills in the centre where tigers often retreat to during the heat of the day. Bandhavgarh Fort thought to be around 2000 years old, is another feature of the park. Due to the abundance of spotted and sambar deer in the meadows near the main park entrance, several tigers frequent this open habitat in the early mornings and evenings, making for excellent sightings. Due to thick vegetation in the forest and importance for territory markers, tigers also often use the many tracks and roads through the park as corridors to move around and mark their territories enabling their tracks to be followed in the sand. Bandhavagrh is a top choice for tigers, but a route system is now in operation in the park meaning more time is recommended for sightings.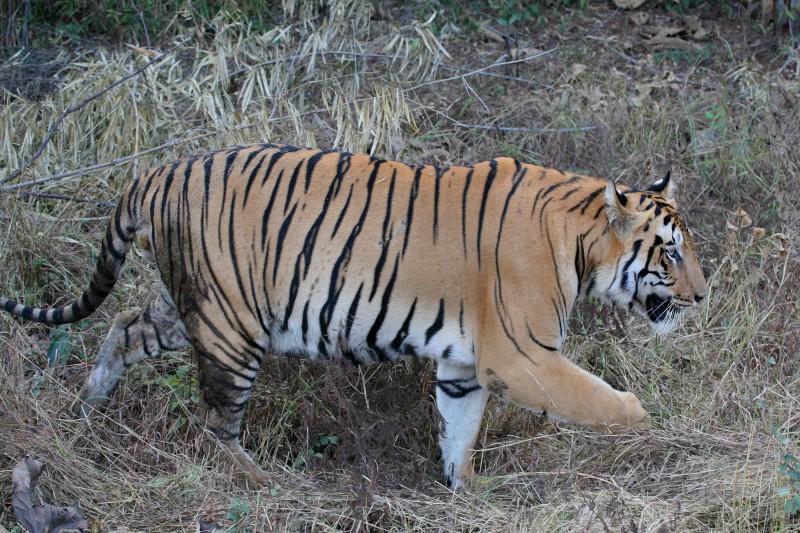 Ranthambore National Park
Ranthambore is perhaps the most famous of Project Tiger's National Parks because of its publicity through natural history documentaries and its close proximity to Delhi and the famous cultural sites of Rajasthan and the golden triangle. The forests of Ranthambore National Park were once the private hunting grounds of the Maharajas of Jaipur, but the desire to preserve the game for sport was responsible for their conservation, and subsequent rescue by Project Tiger. The National Park now sprawls over roughly 400 square kms of dense tropical dry deciduous forest, open scrub lands and rocky outcrops. The park has had a good tiger population for long time, but became famous after a series of documentaries featuring the plight of Machli, a beautiful female tiger that was filmed in the park over many years and her descendants are still seen here today Tigers are frequently spotted here on most route systems, even during the middle day, because they spend so much time at the many waterholes dotted around the park. The park is however very popular still and permits sell out quickly, so it is important to plan a visit well in advance.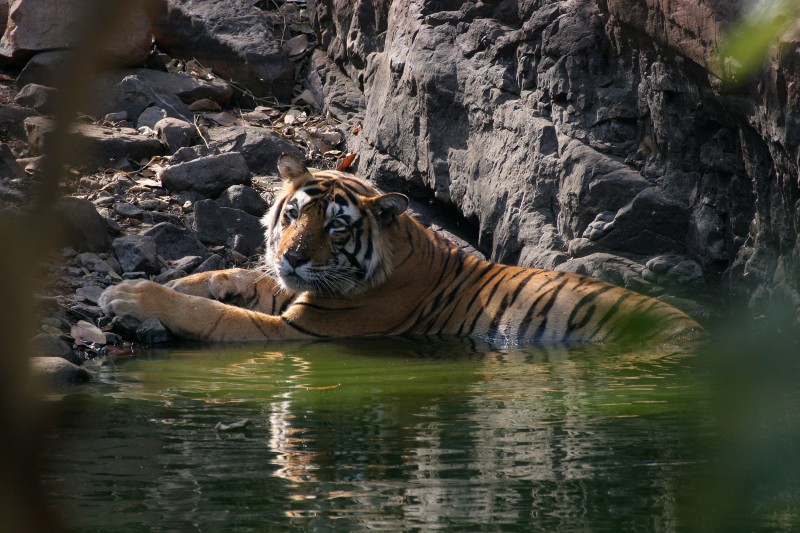 Tadoba Andhari National Park
This 623 square km reserve in the state of Maharashtra is now one of the best options for reliable tiger watching with fewer numbers of visitors and also no route systems for safaris. The park is a more open landscape comprising an attractive mixture of dense forest (mostly teak), bamboo thickets, wide open grassland and meadows with several lakes. Thanks to poaching protection and a large population of herbivores including spotted and sambar deer, nilgai (blue bull), gaur and wild boar, the tiger population here has recovered well in recent years. It has gone from a population of around 40 in the 1990's to a present day adult population of almost 70 which seems to be increasing each year. Again due to a number of waterholes throughout the park which attract tigers during the dry and hottest months (March, April and May) sightings are very good in this park. In recent years word has got around, so it is also becoming busier. Tadoba is also a great option for sightings of sloth bears and wild dogs too.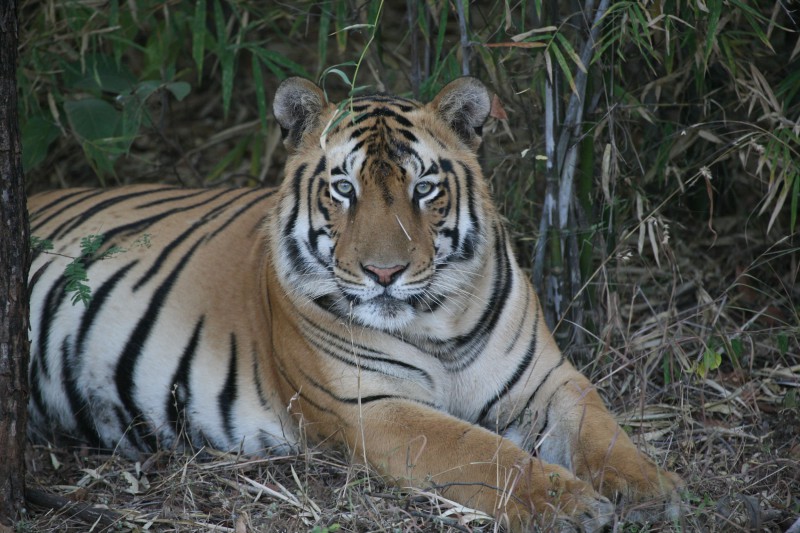 Kanha National Park
Kanha is a really large forested park (covering 940 square km) with a very healthy tiger population and wide of range of other central Indian wildlife. The park is mostly dominated by Sal forest, dense stands of bamboo and swampy meadows. Kanha has fewer waterholes so tiger sightings are more focused on the forest tracks and around the open meadows where they hunt and are given away by the alarm calls of spotted deer and langurs. The large size of this park and different landscapes means that we would recommend staying a little longer here to maximise your chances of success.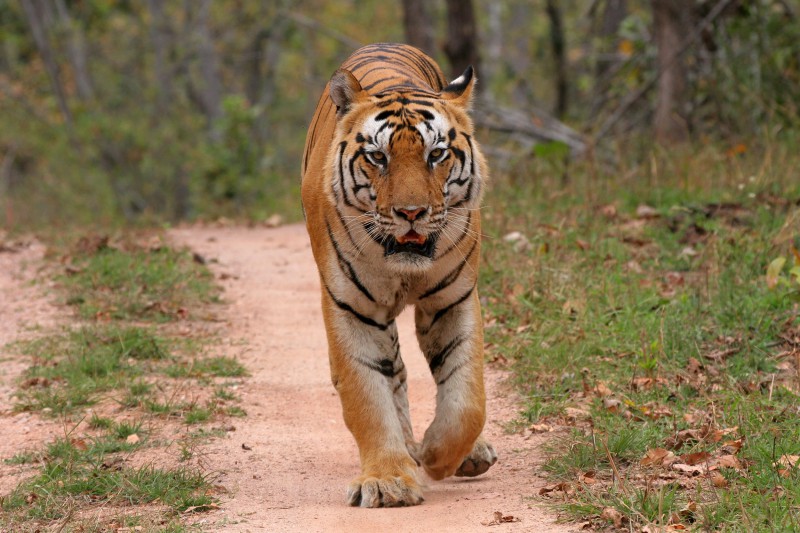 Pench National Park
Reputedly the inspiration of Kiplings' Jungle Book, Pench is a beautiful forested reserve criss crossed with small streams and a few undulating hills with a great diversity of central Indian wildlife, similar to Kanha. It also receives lesser numbers of visitors than the more well-known tiger hotspots. Although tigers can be seen here and we even filmed here for the BBC's spy in the jungle series, sightings are generally less frequent than in the other parks mentioned above. However leopards and wild dogs (dhole) tend to do well here in the areas with fewer tigers.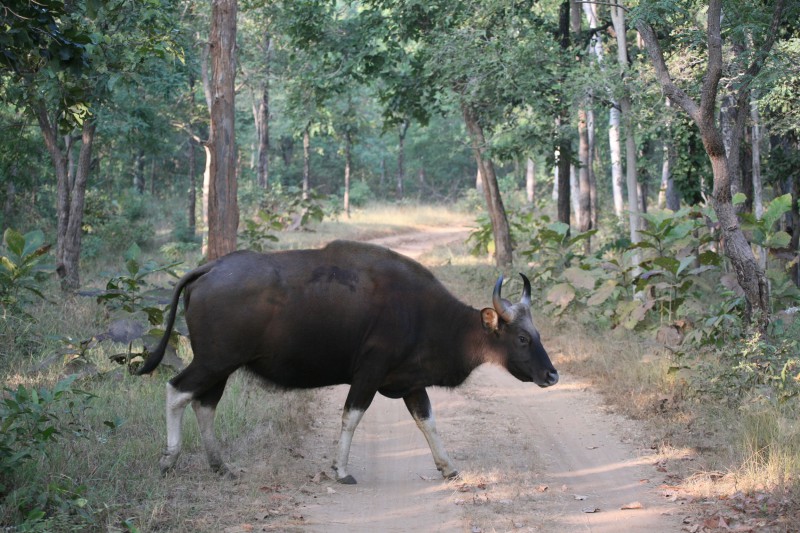 Dudwha National Park
In recent years, the little visited Dudwha National Park in Uttar Pradesh has started to produce more and more tiger sightings along with a very different assortment of Indian wildlife. The park is refreshingly crowd free and during the winter month's tigers spend more time inside the core of the park where the water holes and abundant prey attract them into more concentrated areas. There are currently a few tigers with small cubs even being seen here and by taking the time to explore this park over more time can produce some good tiger sightings in addition to other exciting species. Other wildlife also being seen includes leopards, fishing and jungle cats, one horned rhinos and the park is also an excellent location to see the endangered Bengal florican. Due to Dudwha receiving far fewer tourists than the reserves of central India, there is rarely a problem obtaining safari permits for the park, even at short notice and full day safaris are also more accessible. The park is around a 4-5 hour drive from Lucknow and there are now some very comfortable lodges.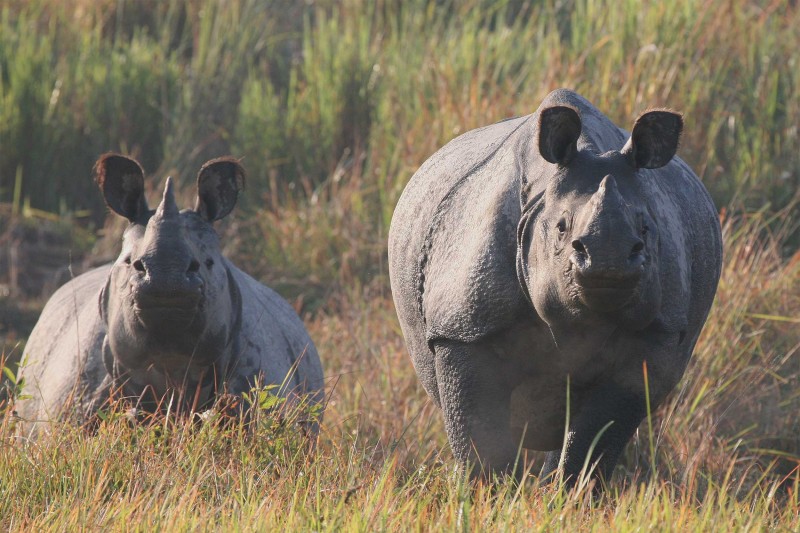 Kaziranga National Park
Despite having one of the highest densities of tigers in the world, this UNESCO Natural World Heritage Site is actually rarely chosen as a natural choice for tiger watching. It's most well known for being the place to see the rare great Indian one-horned rhinoceros of which Kaziranga is home to around 80% of the world population. The park is huge and is covered in evergreen forest, swamps and tall elephant grass making it very difficult to spot tigers, even though there are many there. However in recent years, more and more of our clients are enjoying tiger sightings here, especially if spending more days.
Satpura and Churna National Park
Covering 524 square km of undulating rocky hills, meadows, and teak forests and bordered by the Tawa reservoir, Satpura is one of central India's best wildlife kept secrets. The park is refreshingly free from mainstream tourism despite having a healthy tiger population, because the tigers here are still timid of humans and mostly keep to the hills during the day. In the core tourist zone of the park tigers are rarely seen but this means that the smaller carnivores such as leopard, sloth bear and wild dog (dhole) are commonly seen. In fact Satpura is probably one of the best parks in India for seeing sloth bears and leopards. However the remote Churna section of the park has a very high density of tigers. The tigers here are still timid and will often move away when they see a vehicle, but this area also offers the rare experience of being able to track tigers with virtually no other tourists in the park.