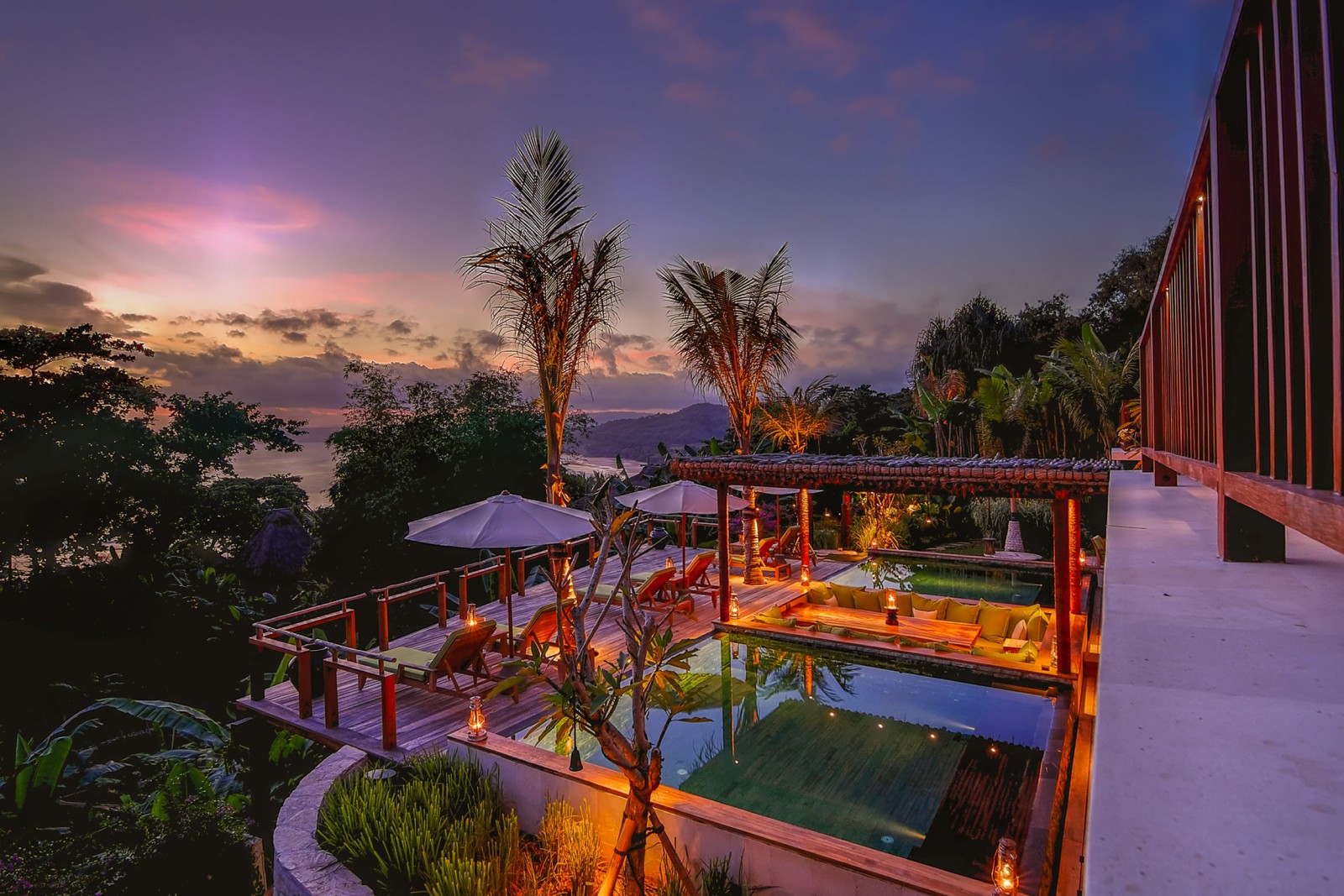 Accommodation, East Of Wallace Line
Nihiwatu Resort Sumba
Nihiwatu is an intimate, award-winning, luxury boutique resort on the remote island of Sumba, with a long, private, sandy beach and 28 luxury villas set amongst the coastal trees. There is also a spa and choice of restaurants either by the beach or with elevated views over the ocean, with most of the food ingredients grown on site.
All the individual villas belong to one of nine "estates" and have private plunge pools, verandahs and air-conditioning. They are extremely well appointed and hand built using local wood to give a traditional yet modern feel with full length windows to make the most of the views and natural light.
There is plenty of in house entertainment with watersports facilities, an open air spa, equestrian centre, beach cinema and ping-pong and pool tables. Free Wi-Fi is also available throughout the property.
Restaurant, beach club, bar, swimming pool, water sports facilities, PADI dive shop, open air spa, equestrian centre, 2.5km-long private beach, cinema, ping-pong and pool tables, free Wi-Fi, minibar, tea and coffee facilities, room and laundry services.
Hiking, swimming, surfing, diving, other water sports, mountain biking, visits to waterfalls, snorkelling, pilates and village visits. You can also achieve a freediving certification, learning to free dive to 20m for up to 3 minutes.
Jonathan Morris
Area Specialist
The area is a famous surfing destination, with the main season for wave variety lasting from April to October: May to August sees fewer different waves but is prime time for Occy's Left, the famous break which first attracted visitors here. Diving is best from March to May and late September to mid- November, when the swells are lower. There are sites suited to both beginners and experienced divers.
If you have any questions regarding our Indonesia tours, please feel free to contact me on +44 (0)1803 866965
We are back and all I can say is what a fantastic tour! Thank you so much for organising, we have both fallen in love with Indonesia and cannot wait to go back to see other things. Sulawesi was fabulous –the diving was so good it was like being in an aquarium. The tarsiers were all that I expected but the black macaques were so much more!
The first evening walk to see the Tarsiers, on the way we saw two Cuscus hanging about in the trees. We saw a couple of Macaques but the main event was the Tarsiers. We saw six in one tree and they are more cute/ugly as their photos. I could have stayed there all night watching them.
The next day we travelled back to see the Macaques, we were a little late and thought we had missed them as a we got to a group of people who had been watching them the macaques turned away into the bush. We carried on walking to look for kingfishers when we found ourselves in the middle of a monkey gang fight. Rambo 1 and Rambo 2 troops had travelled onto each other's territory and  all hell broke loose! They didn't care that we were there they just rushed back and forth hollering at each other, it was so exciting watching it.
Once all the testosterone subsided Rambo 2 relaxed and groomed each other we just stood in the middle of them watching them for ages. One  climbed a tree to communicate with me by sticking his tongue out and showing me some very strange facial expressions – Stewart thought he was asking me to be his 3rd wife!  As we stood watching them relaxing, one came to play with my shoelaces and then another liked my trousers, then a brave one climb up me and started grooming my hair! He didn't give up easily, sticking his fingers in my eyes and kept looking at me seeing how I was reacting– it was a fantastic experience all round.
All  that is left to say is thank you again for giving us the wide variety of what we can see in Indonesia, it has whetted our appetite to see more!  Now to plan for next year –we will be in touch soon!