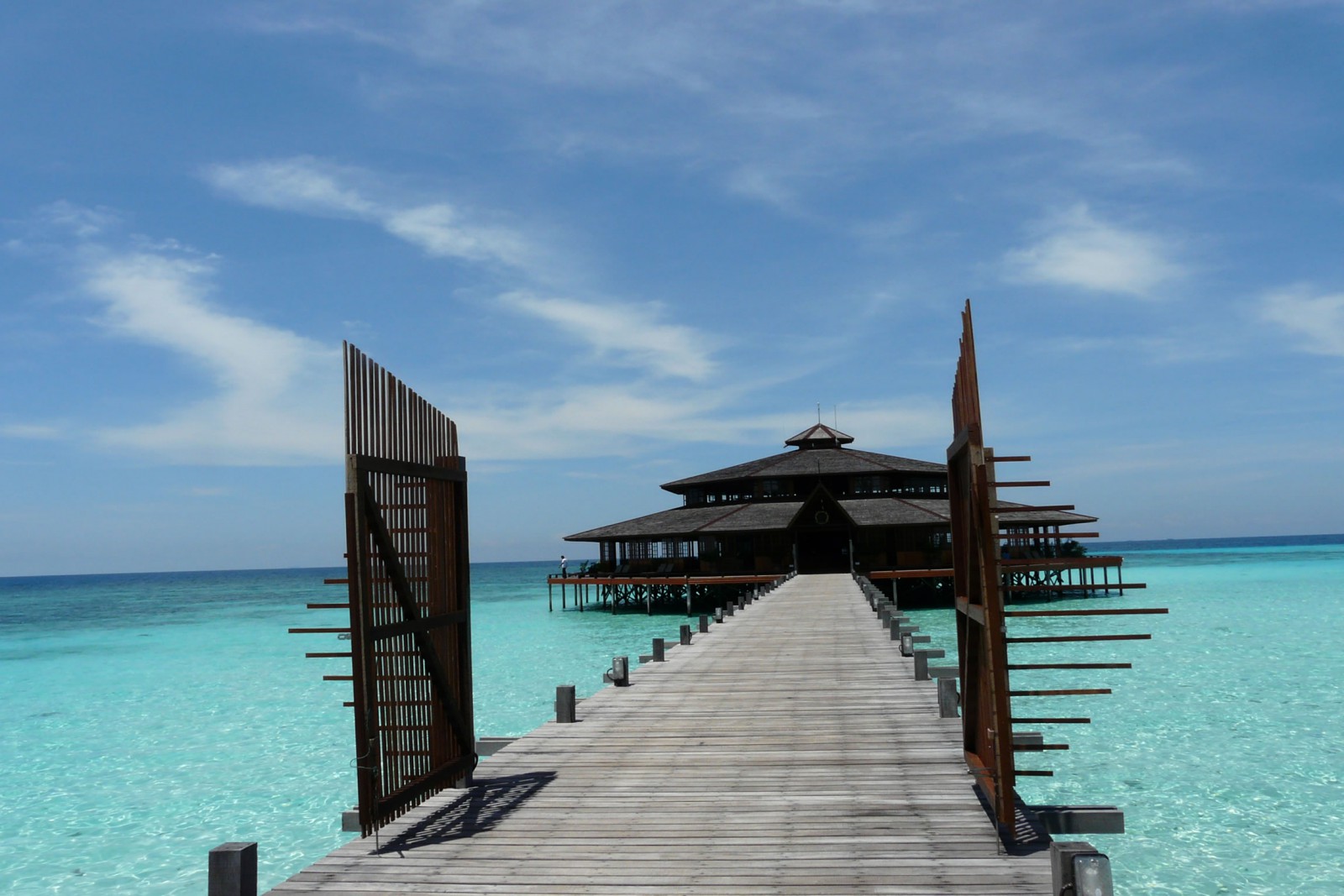 Accommodation, Northern Coast and Islands
Lankayan Island Resort
The small, quiet island of Lankayan is covered with lush tropical vegetation (mostly casuarina trees and screw pines): encircling the island is a beautiful white sand beach.
Just yards offshore is a pristine shallow coral reef providing wonderful doorstep snorkelling; the diversity of reef animals in this area is amongst the highest in the world and you will see a large number of different coral species as well as a multitude of small fish, nudibranchs, shrimps and crabs. Baby black tip reef sharks patrol the shallows and turtles are frequently seen both in the water or coming onshore to nest (there is a small hatchery and turtle conservation programme here). If taking an optional boat trip to deeper water you may encounter some of the larger species such as rays, jacks, and barracudas. Whale sharks are also occasional visitors from March to May.
Accommodation is in one of 23 detached chalets dotting the shoreline. All are spacious and offer very comfortable accommodation with private facilities (ample hot water), air- conditioning and large verandas with hammocks. There is also a restaurant serving excellent seafood, and a lounge, bar and PADI dive school.
Restaurant, lounge, bar, private facilities with hot water showers, air- conditioning, hammocks, verandas and PADI dive school.
An excellent coral community and abundant small fish, nudibranchs, shrimps, crabs, black tip reef sharks: green turtles can be seen underwater and also come ashore to nest and there is a small hatchery and turtle conservation programme here. Deep water species such as rays, jacks, and barracudas and whale sharks can also be encountered.
Snorkelling, diving, assisting the turtle conservation work, relaxation at the resort.
Jonathan Morris
Area Specialist
The main turtle nesting season runs from June to September. March and May is the optimum time for whale shark sightings.
If you have any questions regarding our Borneo tours, please feel free to contact me on +44 (0)1803 866965
We had a brilliant trip to Borneo and (apart from Clouded Leopard) we saw everything we anticipated and more.  If we were doing it again we would probably add another night or two to Deramakot and leave rest the same.  Deramakot is a fantastic location, so remote and peaceful. Accommodation is basic but adequate considering the location. We were actually the only guests there most of the time.
Borneo Rainforest Lodge – fantastic location, enhanced by our upgrade to a deluxe chalet with a view across the river. We woke at 5am on the first morning and watched a male Orangutan vacate his nest in the tree right above us and climb down nearer to us and start finding his breakfast while we were in the outside bath!  Amazing.