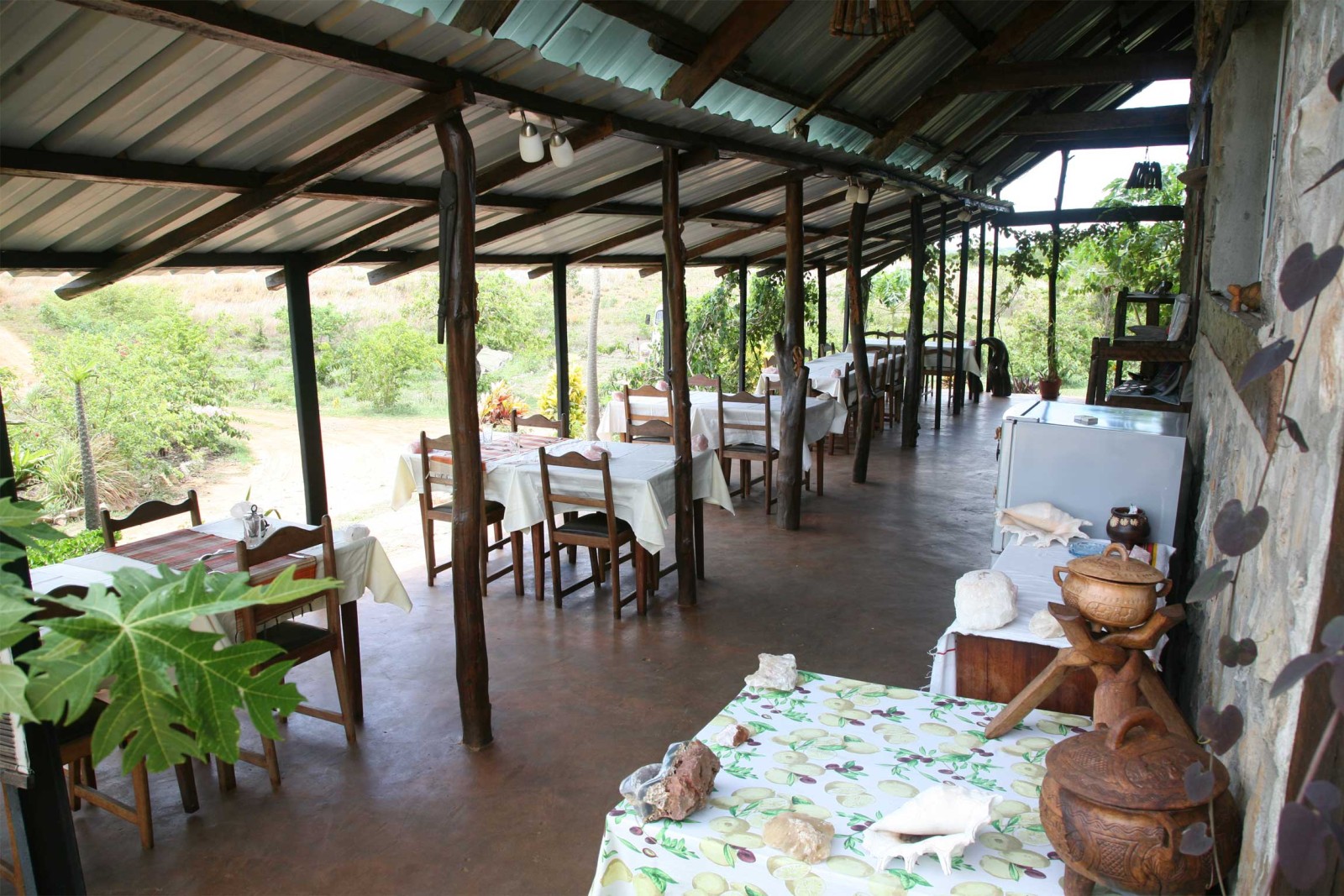 Accommodation, Northern Madagascar
Ankarana Lodge
The recently renovated Ankarana Lodge is located approximately 1 km from Ankarana National Park with superb views over the local savannah.
The lodge has simple yet comfortable air-conditioned bungalows and more simple rooms, the more basic terraced rooms have air- conditioning and all have private bathrooms. There is 24-hour power for lighting and charging of equipment.
There is a large swimming pool with deck chairs and a drinks service, and there are plans to build a bar. The spacious bungalows overlook the pool and have private verandas. Although without air- conditioning the rooms have fans and two doors to improve the airflow.
There is a restaurant towards the back of the pool serving traditional Malagasy cuisine.
The main reason for a stay here is to visit Ankarana National Park, a spectacular tsingy area of eroded limestone pinnacles and sunken dry deciduous forest containing one of the highest densities of primates in the world – it has to be one of Madagascar's most exciting reserves. Highlights include the various chameleons, leaf-tailed geckos and the northern ring-tailed mongoose.
Private bathrooms, air-conditioning, ceiling fans, restaurant, drinks service, swimming pool, terrace, 24-hour electricity.
There are 11 species of lemur in the park, including crowned, Sandford's brown, northern sportive and greater dwarf lemur. Other wildlife includes ring-tailed mongoose, various chameleons and leaf-tailed geckos and the colourful Madagascar giant day geckos. The Madagascar crested ibis is also frequently seen here.
Excursions in the Ankarana National Park could include visits to the impressive limestone karst pinnacles called tsingy, sunken caves, underground rivers and more.
Ian Loyd
Area Specialist
It can get pretty hot in Ankarana so take plenty of water and a hat on excursions.
If you have any questions regarding our Madagascar tours, please feel free to contact me on +44 (0)1803 866965
Loved it all! 17 species of lemurs, loads of reptiles and endemic birds. Did masses of photography. Highlights included male giraffe necked weevil, witnessing an indri howling and Verreauxs sifakas jumping through the trees in gorgeous early morning light. [Our guide] was great as were local guides. Very happy with the itinerary. We wanted it to be a wildlife holiday as that is our primary interest, but found the landscape variety and tribal dimensions very rewarding too.