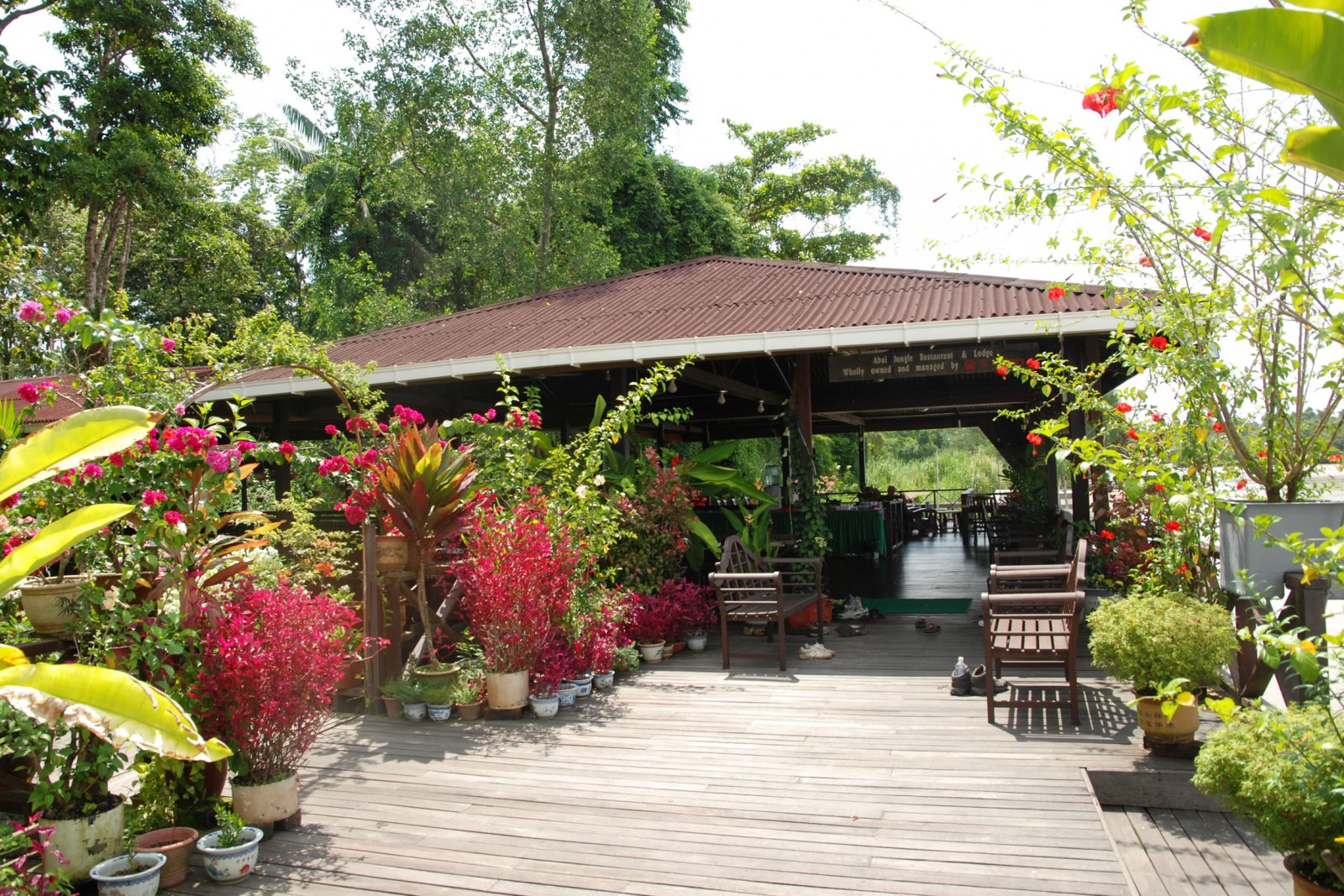 Accommodation, Sabah
Abai Jungle Lodge
Abai is one of the most easily accessible forest lodges along the wildlife-rich Kinabatangan River yet is situated in one of the quietest areas in terms of visitor numbers.
Accommodation at Abai is in simple but clean and comfortable stilted chalets. All the rooms are en suite with hot water and have 24-hour electricity. There is no air-conditioning at this lodge but each room has fans to keep you cool.
The restaurant serves mostly buffet meals but sometimes a la carte meals are offered at quieter times.
There is a good network of trails from the lodge leading to 5 different watchtowers where wildlife such as primates, squirrels and forest birds are often seen.
A large population of proboscis monkeys inhabits the forests lining the Kinabatangan River, often encountered on river trips. Other wildlife includes wild orang-utans, long- and pig-tailed macaques, gibbons, and silvered and maroon langur monkeys. The lodge provides a good base for birding – eight species of hornbill are possible to see in the immediate area. Borneo pygmy elephants are also found here in large herds and can occasionally be observed on boat trips.
Restaurant, lounge, bar, private facilities with hot water showers, and veranda.
Wild orang utans, proboscis monkeys, long-tailed and pig-tailed macaques, silvered and maroon langurs, Muller's gibbons, Bornean pygmy elephants, civets, otters and bearded pigs. During the dry season when river levels are lower, the rare flat-headed cat can be seen, most often on nocturnal boat trips. Reticulated pythons, mangrove snakes and saltwater crocodiles can often be encountered at the water's edge. Eight species of hornbill, the rare storm's stork, kingfishers and Bornean ground cuckoos are some of the many avian highlights.
Boat safaris along the Kinabatangan River, guided walks through the forest.
Jonathan Morris
Area Specialist
Combine with the Kinabatagan Riverside Lodge for a multi-stop exploratory trip up the Kinabatangan River.
If you have any questions regarding our Borneo tours, please feel free to contact me on +44 (0)1803 866965
We had a great holiday because we were looked after so well. The wildlife viewing was the best possible because of the effort put into it by the guides…We saw more wildlife than we expected or had hoped for. Orang-utans in the wild as well as at Sepilok. The turtle laying and releasing was great. A heard of about 20 elephants at Sukau only feet from the boat + an amazing array of birds including some very rare ones. Also a 9' crocodile….Danum Valley was amazing but it is necessary to stay several nights at least to get the benefit. Overall it was a brilliant holiday.