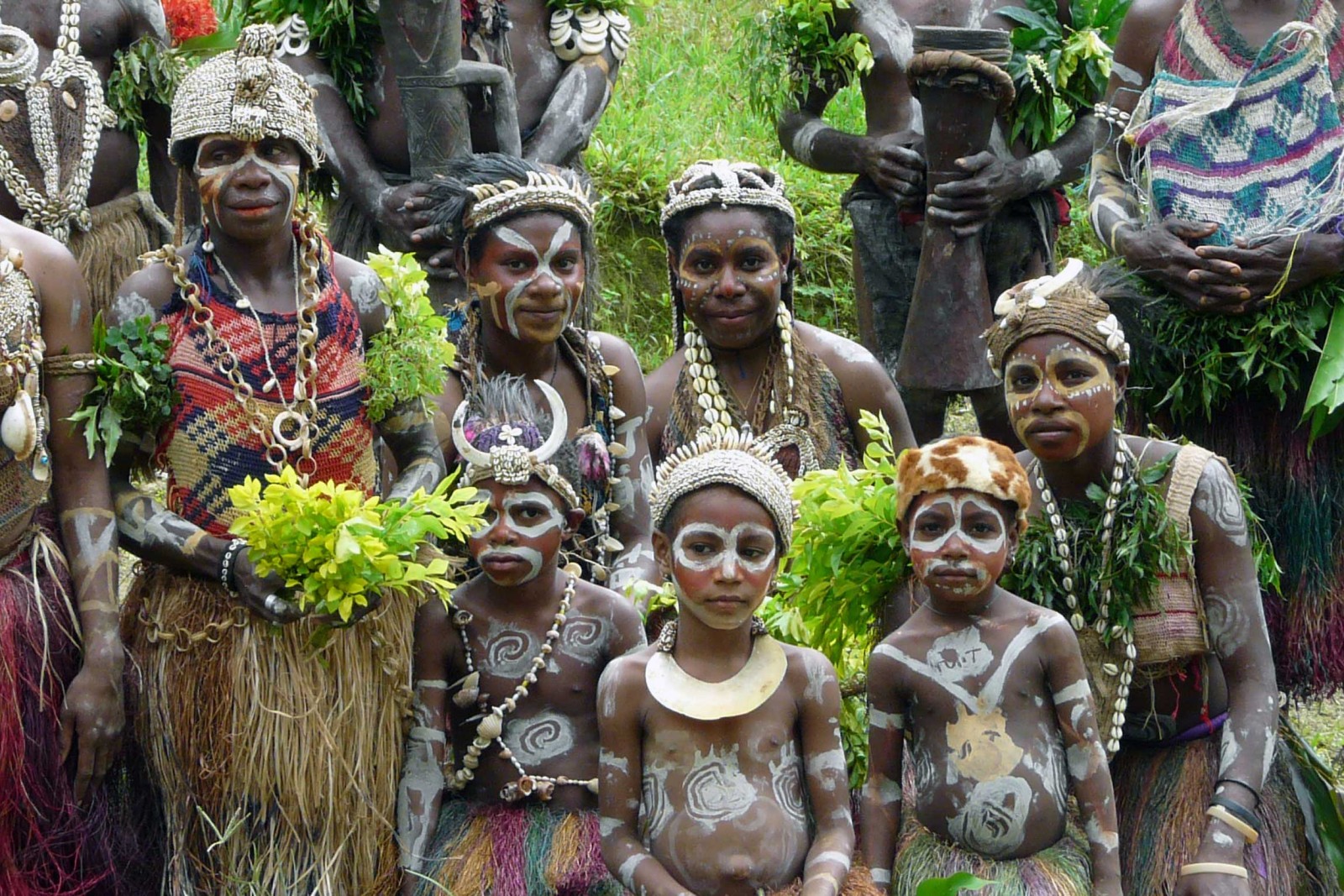 Sepik River, Madang and the Spectacular Goroka Show
12 Days from £4895
per adult.
Led by various regional guides, this two-week group tour is perfectly suited to those with limited time in Papua New Guinea. The group will firstly visit remote villages along the Sepik River, travelling by motorised canoe for a truly authentic glimpse of village life along New Guinea's longest artery. Next we travel to the warm coastal resort of Madang for the opportunity to experience the local culture and snorkel or dive the colourful coral reefs. Finally comes the highlight of the trip: we ascend to the cool Eastern Highlands for the spectacular Goroka Show, the oldest and largest cultural festival (or sing sing) in the country. For two days, over 100 highland tribes come together to display their unique music, regional dances and tribal rituals: a spectacle like no other on earth.
Price from £4895
per adult. Based on sharing double / twin rooms
Day 1
Depart Singapore on Air Niugini flight to Port Moresby.
Includes In-flight Meals.
Day 2
Arrive in Port Moresby. Meet with group and assisted with connection to Wewak. Met and tfr to the hotel. Rest of the day at leisure.
Staying at In Wewak Boutique Hotel. Includes No Meals.
Day 3
Transfer by road to pagwi and then board motorised dugout canoe and commence the Sepik river canoe safari.
Staying at Palimbe Guesthouse. Includes All Meals.
Day 4
Visit the Middle Sepik villages and enjoy a sing sing. Continue to Wasui Lagoon and Wagu lake.
Staying at Wagu Guest house. Includes All Meals.
Day 5
Early morning visit to the rainforest to see the Lesser Bird of Paradise. Later, visit the Wasukuk area Blackwater tributaries, include Meno and Tonginmjam. enjoy a sing sing in one of the villages.
Staying at Ambunti lodge. Includes All Meals.
Day 6
Return to Pagwi by canoe and transfer by road to Maprik and enjoy a mini cultural show. Later, transfer to hotel in Wewak.
Staying at In Wewak Boutique Hotel. Includes Breakfast and Lunch.
Day 7
Tfr to the airport and catch flight to Madang. Met and transfer to the hote;l. Afternoon tour of the town including Coast Watchers Memorial, Madang museum and Bilbil village.
Staying at Madang Resort hotel. Includes Breakfast.
Day 8
Morning harbour cruise, including a visit to Siar Island for a short walk and Pig island for snorkelling. Return to the hotel. Afternoon Tour to Amele villages, including Hobe, Suyao and Haya, with sing sing performance at Haya village.
Staying at Madang Resort hotel. Includes Breakfast.
Day 9
Depart Madang for overland transfer (7-8 hours) to Goroka. A spectacular road tip over the rugged mountains with stops en route, including Yonki Hydro dam and Kainantu pottery centre.
Staying at Pacific Gardens Hotel. Includes Breakfast and Lunch.
Day 10
Pick up from the hotel and transfer to the show ground. Spend the day at Goroko show, a marvellous opportunity to gain an overview of PNG cultural diversity. Later transfer back to the hotel.
Staying at Pacific Garden Hotel. Includes Breakfast and Lunch.
Day 11
Pick up from the hotel and transfer to the show ground. Spend another day at Goroko show.
Staying at Pacific Garden hotel. Includes Breakfast and Lunch.
Day 12
Morning pick up from the lodge and transfer to the airport. Catch flight to Port Moresby. Connect with Air Niugini flight to Singapore.
Includes In-flight Meals.
Download the full details of this itinerary and start planning your trip today.
Download File
Overview
A large comfortable hotel ideally located at the entrance of the beautiful Madang harbour. The hotel is surrounded by beautiful tropical gardens and offers a range of accommodation types to suit all budgets from standard rooms to executive waterfront bungalows.
The standard rooms are small and simple with en suite facilities, while the spacious en suite premier rooms are much more comfortable and spacious, recently refurbished with flat screen tv and balconies overlooking Dallman Passage.
The hotel has two restaurants including the new "Haus Win" featuring open dining along the waterfront.
Facilities
Private facilities, 2 restaurant, 2 bars, 4 swimming pools, tennis courts, air conditioned gymnasium and fitness centre, as well as a lagoon with kayaks and canoes available for guests. There is a dive shop with full PADI Dive training facility.
Local Wildlife
Hundreds of species of coral, small fish, larger pelagic species including barracuda, jacks, rays and turtles.
Optional Activities
Snorkeling, diving, fishing, kayaking, jungle hiking, coastal boat tours and tours to BilBil village,
Are International Flights Included?
Yes
Flight Info:
Return flights with Air Niugini from Singapore to Port Moresby are included. Please enquire for flight fares from London Heathrow
Best Visited:
May to October
Are you ATOL Registered?
Yes. This means we are legally able to book your international flights in conjunction with your ground arrangements so you can book with us with complete confidence. Read more about our ATOL license here.
Claire Pote
Area Specialist
Extensions are possible, please ask for more details.
If you have any questions regarding this Tour, please feel free to contact me on +44 (0)1803 866965
[Your Papua New Guinea representatives] were probably the most efficient and best organised company I have had dealings with. They were an absolute pleasure – everything worked perfectly.. .Overall an excellent holiday, very well organised and a fascinating place to visit. Most enjoyable. Thanks.