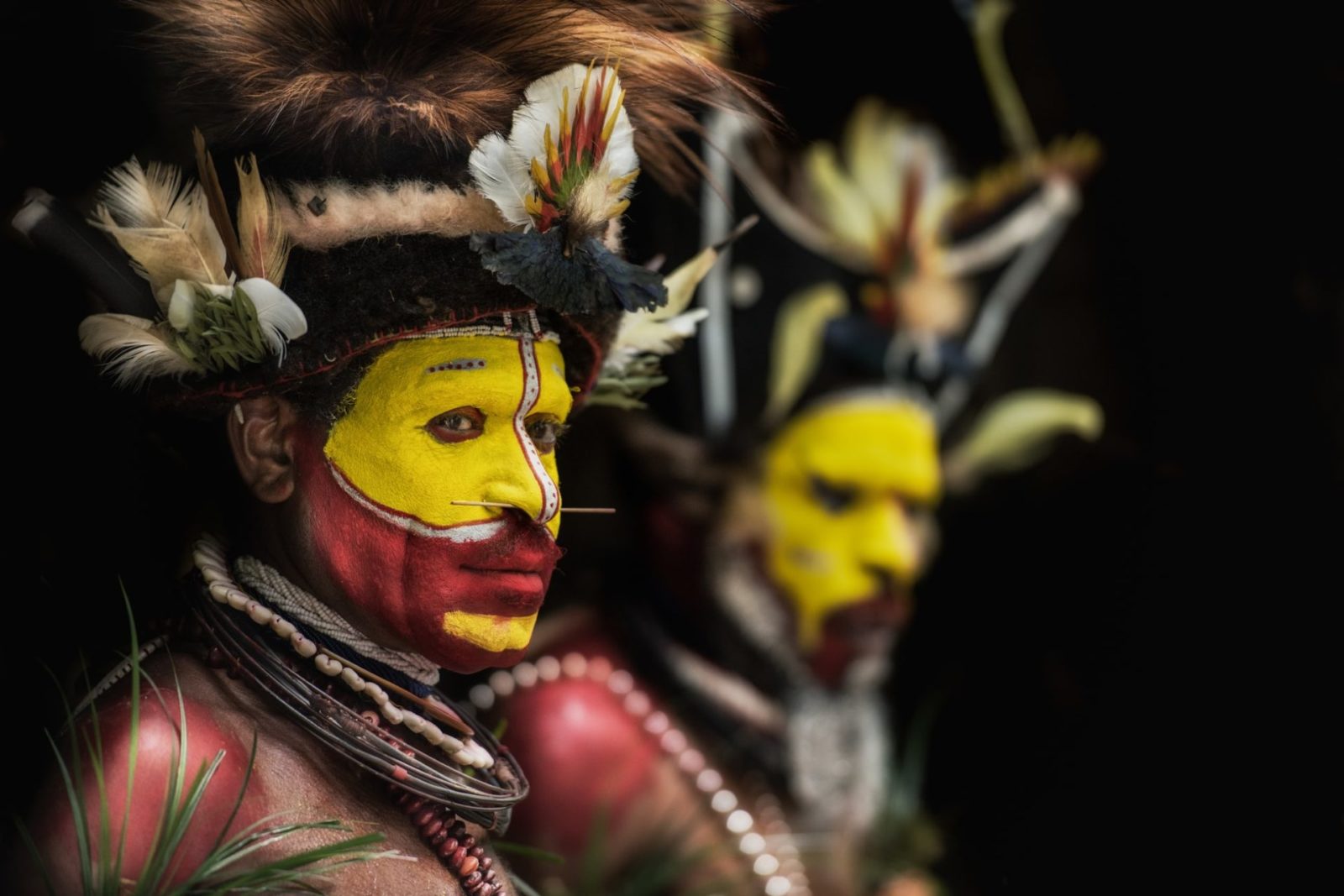 Mount Hagen Discoverer Show Tour
11 Days from £7885
per adult.
The Discoverer program provides a unique opportunity to discover the culture and ecosystems of the world's second largest island – New Guinea. Papua New Guinea is a veritable smorgasbord of colour, culture and excitement. The highlight of the Discoverer program is attendance at the famous Mount Hagen Cultural Show, a world famous cultural gathering of many of the opulently decorated cultural groups of this incredibly diverse land. The program  also includes two nights stay at Karawari Lodge in the Sepik region and two nights at the new Lake Murray Lodge. Accommodation during the Mount Hagen Cultural show weekend is at the Highlander Hotel.
Price from £7885
per adult. Based on sharing double / twin rooms. Single Supplement £700. NB: Single supplement is based on single room throughout, except twin share at Highlander Hotel.
Day 1
Depart Singapore on Air Niugini flight to Port Moresby.
Includes In-flight Meals.
Day 2
Arrive in Port Moresby, where you will be met by Trans Niugini Tours staff and transferred to the Stanley Hotel. Rest of the day at leisure.
Staying at Stanley Hotel. Includes Dinner.
Day 3
Transfer to the airport for Air Nuigini flight to Mount Hagen. Mount Hagen Town is in the upper Wahgi Valley - a valley with some of the oldest evidence of agriculture in the world. Transfer t to the Highlander Hotel. Afternoon pre-show program at Rondon Ridge in preparation for the Mount Hagen
Staying at Highlander Hotel. Includes All Meals.
Day 4
Today is spent exploring the Mount Hagen Show – world famous for its colour, culture and vibrancy. It is a truly spectacular event. The diversity of the coastal, lowland and highlands sing sing groups at the Hagen show reflects the incredible diversity of Papua New Guinea's landscape.
Staying at Highlander Hotel. Includes All Meals.
Day 5
Another full day to experience the spectacular Mount Hagen Show.
Staying at Highlander Hotel. Includes All Meals.
Day 6
Transfer to the airport and take charter flight to Karawari. Met on arrival and transfer by jet boat to Karawari lodge. Sat upon a ridge on the edge of the Karawari River, the lodge boasts spectacular views over dense tropical jungle as far as the eye can see. This is an area of vast alluvial floodplains, laced with narrow waterways. The Karawari people are the most remote of the floodplains communities. After lunch transfer to the Kundiman village to observe a sago making demonstration (sago is a staple food for the river communities).
Staying at Karawari Lodge. Includes All Meals.
Day 7
Enjoy a full day of guided excursions that provide insight into the amazing ecology and culture of the Karawari area. Travel along the jungle-fringed waterways, where boatmen, standing upright, paddle their slender dugout canoes. See bountiful birdlife along the rivers and nearby lakes. The various excursions will enhance your understanding of traditional village culture.
Staying at Karawari Lodge. Includes All Meals.
Day 8
Transfer to the airstrip and fly by charter flight to Lake Murray. Transfer Lake Murray Lodge for lunch. After lunch enjoy an afternoon tour visiting local villages.
Staying at Lake Murray Lodge. Includes All Meals.
Day 9
Full day cultural tour exploring the waterways of Lake Murray. Visit local villages in one of the remotest parts of Papua New Guinea.
Staying at Lake Murray Lodge. Includes All Meals.
Day 10
Transfer to the airstrip and fly by charter flight to Mount Hagen. Transfer to Rondon Ridge for lunch. Afternoon guided nature walk on the trails around the lodge
Staying at Rondon Ridge. Includes All Meals.
Day 11
Pick up from the lodge and transfer to the airport for flight to Port Moresby. Connect with Air Niugini flight to Singapore.
Includes In-flight Meals.
Download the full details of this itinerary and start planning your trip today.
Download File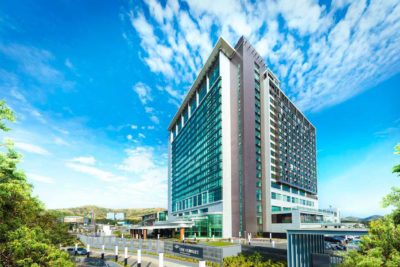 The Stanley Hotel and Suites
Overview
The Stanley Hotel and Suites is a modern, luxurious accommodation option in Waigani – the Government and Commercial heart of Port Moresby. Directly connected to Port Moresby's only integrated shopping complex, Vision City Mega Mall, guests have easy access to restaurants, bars, a bank, cinema and nightclub. With well-appointed standard and deluxe rooms offering five star amenities, and even more luxurious suites providing access to the exclusive club lounge, the Stanley has everything guests may need for a comfortable and convenient stay in the city.
Many rooming options are available, from standard twins to deluxe and executive Kings, to corner and junior suites and the Presidential suite on the top floor. Rooms offer commanding views of either the beautiful pool area or the Owen Stanley mountain range. Guests staying in suites have exclusive access to the Executive Club Lounge facilities as well as kitchens and dining areas. The hotel has six impressive dining options, ranging from buffets at the Green Haus Restaurant, to snacks on the pool deck, to fine dining in the Silver Leaf. Meals are also served in the Club Lounge, and the Mezz Bar on the 19th floor serves exquisite cocktails.
Facilities
The hotel has six dining options, a cocktail bar, conference facilities, a ballroom, a 40-metre lap outdoor swimming pool, spa, gym and grocery store. Rooms have either queen, king or super king beds, free Wi-Fi, bathrobes and slippers, safety deposit boxes, hairdryers, mini-bar, TV, air conditioning, luxury toiletries, coffee and tea facilities, telephone, alarm clock, iron and board, en-suite bathroom and work desk. Suites also have dining rooms and kitchens and provide access to the executive club lounge facilities.
Optional Activities
Due to its premium location, the Stanley is a great base from which to explore the local attractions of Papua New Guinea's capital city. Visit the nature park or adventure park for a fun day out, or rent a boat to visit fisherman's island. The new harbourside development feature five great restaurants. Alternatively, on-site, guests can relax on the large pool decking, indulge in a spa treatment or use the gym.
Are International Flights Included?
Yes
Flight Info:
Return flights with Air Niugini from Singapore to Port Moresby are included. Please enquire for flight fares from London Heathrow.
Best Visited:
May to October
Are you ATOL Registered?
Yes. This means we are legally able to book your international flights in conjunction with your ground arrangements so you can book with us with complete confidence. Read more about our ATOL license here.
Claire Pote
Area Specialist
Extensions and other airline options are possible, please ask for more details.
If you have any questions regarding this Tour, please feel free to contact me on +44 (0)1803 866965
The [Papua New Guinea] trip was a success…! got great pictures.. .and we enjoyed it very much. Our arrangements worked much better than we expected…